A pair of 3 star restaurants in Italy
Friday, July 02nd , 2010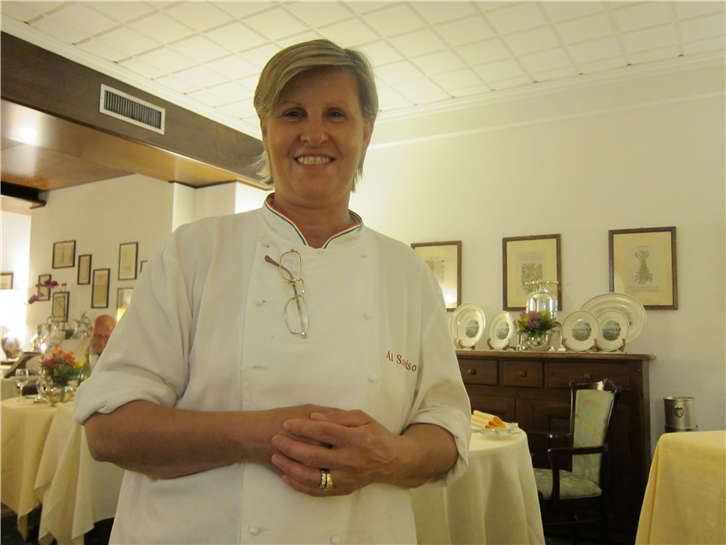 My Italian break continued with Da Vittorio, elevated this year from two to three Michelin stars. Da Vittorio has a pretty setting on a hillside near the historic town of Bergamo, and specialises in seafood. There is a gorgeous terrace on which you can eat out on warm evenings, as this one was. Ingredient quality was high, and dishes were prettily presented – a lovely crab salad of spectacular quality, and a pretty dish of fabulous wild sea bass being good examples. As a bonus there is a vast and quite fairly priced wine list. There are ten well appointed rooms at the property, though even here the air-conditioning struggled to cope with a hardly excessive temperature. August here must be fun.
Al Sorriso (whose chef is pictured) is a much lower-key place than Da Vittorio, tucked away in a quiet street of a sleepy village near a couple of the Italian lakes, north west of Milan. Lake Maggiore is a particularly impressive place to visit, having the aptly named Isola Bella, with magnificent gardens (pictured). The cooking at Al Sorriso is remarkably simple, going to great care to source the best possible ingredients, and then doing very little to them. An example was a single porcini, just accurately seasoned, and superb gamberi prawns from St Remo, simply prepared with an artichoke salad. Despite the limited intervention of the kitchen, the meal was a joy to behold.
These two meals, together with my meal at Dal Pescatore, to me are a clear demonstration of just how far to go UK restaurants have in order to catch up the best of their continental brethren. Who in England (other than Stephen Harris) would go the trouble and expense of sourcing ingredients of this quality?
Back in the UK, I went back to Madhus, which is owned by the same family as my other regular Southall haunt, the Brilliant. Aloo tikki is an old favourite dish here, but this week we also tried a potato vada (fried spicy potato), which worked very well. The biriani here is always terrific, the rice fragrant and light, and an off-menu curry of potatoes and mushrooms was a nice change, and featured careful spicing.
Corrigans in Mayfair produced an excellent meal for me this week. A crab dish with apple jelly and avocado cream had lovely balance and wild salmon is a rare treat to eat these days. A chocolate marquise dessert completed a very good meal indeed, causing me to nudge its score up a point compared to my previous visit. A key to the evident success of the restaurant is serving attractive dishes that people actually want to eat, rather than showing off wacko ingredient combinations and the latest whizz-bang technique to other chefs. This might seem a self-evident strategy, but it is all too rarely executed. Long may Corrigans prosper.
Franco Manca just gets busier and busier; this week we had to queue outside to get a table in mid-week. Service can go a bit astray at such times, but staff always seems friendly, even when under pressure. The pizzas continue to be unrivalled in London. A vast portion of magnificent garlic bread, the size of a pizza, costs just £2.60. Incidentally, at weekends they now make and sell sourdough bread, baked in their superb pizza oven. The bread is not the best sourdough I have had, but is certainly very good and better than most.
Celebrity does not itself guarantee commercial success, and one of Gordon Ramsay's London gastropubs bit the dust this week. The Devonshire in Chiswick was chosen almost perversely as a site, situated as it is between the A4 on one side and a long walk down a residential street on the other, a location that absolutely no one is going to wander past. I had some entirely decent meals there, though prices were relatively high for what was delivered, but eventually the location took its toll. A kitchen fire closed the place and put it out of its misery this week. Apparently it will not reopen, at least in its present form.