Catching up in London
Saturday, April 28th , 2012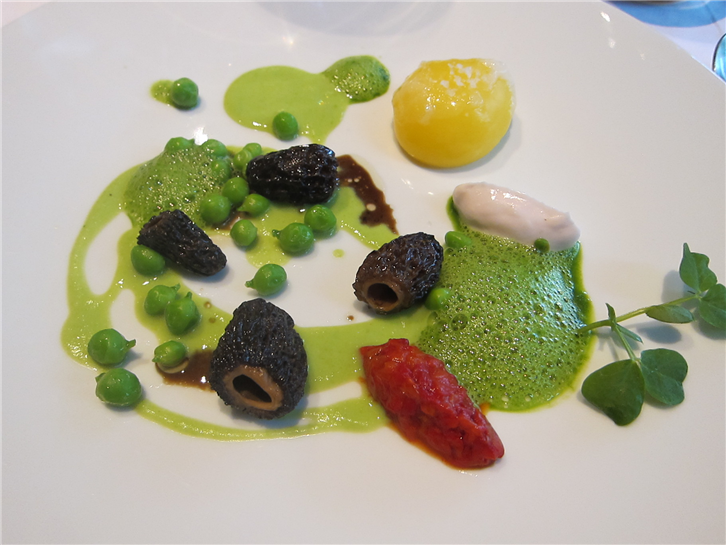 After my fortnight in Japan it was back to London meals, at least for a little while, and these have ranged from the sublime to the ridiculous. At one end of that scale is Union Jacks, the new chain from a certain Mr Oliver, serving that great British dish, the flat. No? Me too. I thought flats were things that you lived in or were something to avoid in tyres, but according to the Union Jacks marketing machine they are what I would call a pizza, though a pizza with some distinctly weird topping combinations. The "flat" I tried was actually OK in itself, but the other dishes that I sampled ranged from very ordinary downwards. Doubtless the chain will be successful nonetheless, such is the power of celebrity.
I was very impressed with The Empress in Hackney, which was an illustration of what can happen when you let a high quality, classically trained chef loose in an old Victorian boozer. There are so many "gastropubs" not worthy of the name in London, churning out mediocre food at prices that are often surprisingly high. The Empress delivered an excellent meal with lovely flavours in its simple but appealing dishes, and the prices were very fair. This is right up there with the best pub cooking in London.

Dabbous is probably the toughest reservation to get in town right now, serving very modern, prettily presented food in one of those industrial-look dining rooms that seem to be all the rage in London at present. I am not sure why restaurant designers have deemed that we really want to eat in rooms that are a cross between a dungeon and an abandoned warehouse, but that seems to be the way of things now (see MEATLiquor, for another example). Ollie Dabbous' food seems somehow at odds with such a stark room, as his plating is very attractive indeed. However I had a rather uneven meal, with one dish that I really liked, one or two I was not keen on at all, with some in between. I reckon that not too many people, when asked what they would like for their last dessert on earth, would ponder for a moment and then say: "ooh, iced lovage please", but perhaps that is just me. Still, no one can deny the effectiveness of their PR campaign. I gather that the place is booked up until, oh, pretty much the end of time.

I am fond of the Mall Tavern, with its retro British dishes like chicken Kiev, and its excellent take on the traditional pork pie. Witty, carefully cooked and appealing dishes are the order of the day here, the staff are friendly and the prices very fair. One day I will make it back here in daylight and take some decent photos of the food; at night the lighting is distinctly murky, which causes matching photos.

In more classical territory is Petrus, the Gordon Ramsay restaurant. This was my second meal here, and while it was not quite as good an experience as my previous meal, this was still a very enjoyable evening. The best dishes were beef with excellent gratin dauphinoise, and a lovely pistachio soufflé. In the hunt for the latest in food fashion it is easy to overlook the virtues of high quality, classical cooking, but the menu here is very attractive, the cooking skilful and the service slick.

Hedone continues to cook with the highest quality ingredients to be found in London, its chef an obsessive ingredients expert who must drive his suppliers insensible, so high are his standards for produce. I have eaten many meals here now: this week's highlights were very high grade duck, a dish of morels, peas and slow-cooked egg (pictured), and dazzling slip soles in citrus butter. A lot more work goes into the dishes here than may be apparent to some: the sauces are the product of considerable effort, often involving multiple stages over a period of days, the puff pastry is made from scratch and the bread is the best you will find in the capital.

After a spell abroad I always tend to crave a curry on my return, and since I have been back both my old favourites Haandi and The Brilliant proved as reliable as ever. Both are excellent value, around £25 a head for more good quality Punjabi food than is sensible to eat.

The next blog will cover my trip to Dublin.