I Ketchup With The New Killer Tomato
Saturday, November 18th , 2017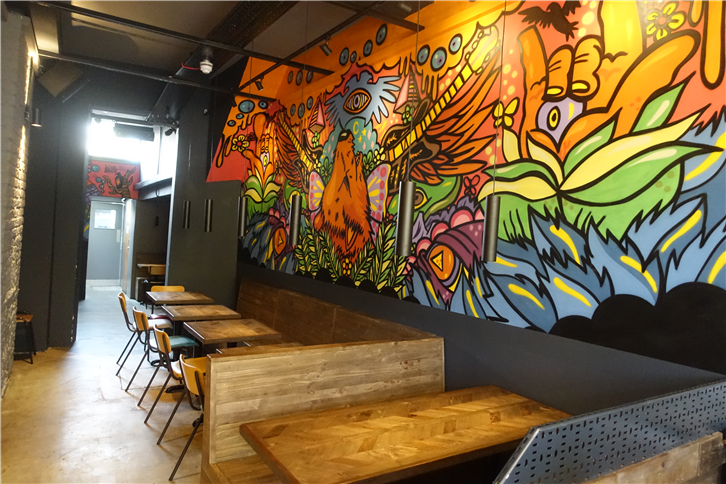 Killer Tomato, the superior tacos joint just off Shepherd's Bush Green, is expanding, and has just opened a second branch in Portobello Road. Named after a 1978 cult movie, Killer Tomato makes no claims about being authentically Mexican, with its ex BBC executive owner and Australian chef. However it does manage to produce better tacos than any other place in London that I have tried. The new branch is similar to the original, with a menu that changes monthly, punchy flavours and good value tostados and tacos. Well worth your time if you are in the area.
I had another excellent meal at A. Wong, now with its well deserved Michelin star. The dim sum here is terrific, but this last visit shows that they have upped their game in the evening too. There were several interesting and successful dishes, such as Sichuan aubergines, gai lan with dried fish and pine nuts, and high class crispy pork. Service was a bit chaotic but the kitchen was on excellent form.
Royal China in Queensway is a regular haunt of mine. A barn of a place full of Chinese families, it has a vast Cantonese menu and is very consistent. Steamed gai lan with garlic is always lovely, as is sea bass with black bean sauce. At this latest visit a Sichuan prawn dish also worked well. No one ever came here for the service, which if you are lucky is merely abrupt, but the kitchen here is a class above most Chinese restaurants in London.
Another old faithful is Diwana Bhel Poori near Euston station. This is just a basic café, but the south Indian food here is lovely and is absurdly good value. The chaat snack dishes here are lovely, and at this latest visit I had a very good dosa, as well as classy samosas. It is really hard to spend £15 a head here and actually finish the food. To drink you can either bring alcohol or order lassi.
Another old favourite is l'Amorosa. Andy Needham was the head chef of Zafferano when it had a Michelin star, and now cooks much the same food in this local restaurant near Ravencourt Park, but without the fancy flourishes or posh service, and at a fraction the price. Wild boar ragu was superb at this latest visit, and even a simple beetroot salad was spot on, garnished with excellent Parmesan crisps. This is a delightful restaurant to have as a local eatery, and indeed I can think of perilously few Italian restaurants, at whatever price point, that can produce food of this quality.
The Germany 2018 Michelin guide came out. There was a new 3 star in the form of Atelier in Munich. There were also four new 2 stars. In total Germany now has 11 three star restaurants, 39 two stars and 251 one stars.
The Italy 2018 guide also appeared. There was a promotion to the three star level for St Hubertus in the ski resort of San Cassiano in the Dolomites. There were three new two star places: Magnolia, Vun and La Siriola, while Sadler and Cracco in Milan were demoted to one star. Italy now has 9 three star restaurants, 41 two stars and 306 one star places.
Next week's blog will be a day or two later than usual.