The top restaurants of Madrid
Saturday, November 12th , 2011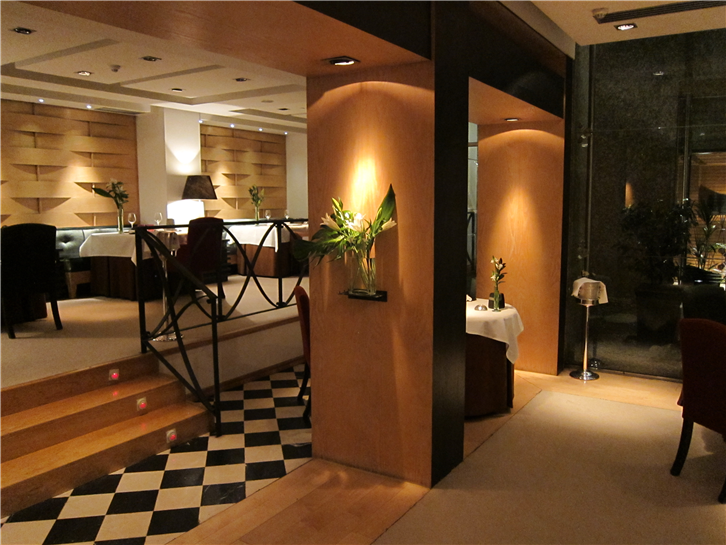 There are four two star Michelin restaurants in Madrid (one of which was not open this week) so in the limited time I had there this week I was able to try three of these. Santceloni (pictured) was the priciest of the three, and in fact the least impressive. My memories of it from a visit five years previously were better. We tried a full tasting menu and certainly had a pleasant evening, but the bill was of a level where you expect something better.

I preferred Sergi Arola Gastro. Interestingly for a chef who worked for years with Ferran Adria, the cooking was not all modern gimmicky, though it was not long before the first foam appeared at the table. At least here there was at least one really classy dish, though in general the cooking it did not feel like a two star restaurant.

My favourite of the three was Ramon Freixa, who is also no stranger to modern cooking equipment but actually offered a choice between modern and traditional dishes. Technique was good here, and there was also attention to detail: the bread here was the best of the three restaurants by a wide margin, for example. It was interesting that this was also the cheapest of the three two star restaurants.

In addition to the Madrid dining, I also returned to Haandi, a genuinely good Punjabi restaurant tucked away in a quiet Knightsbridge street. This has been a regular haunt for me for years, the kitchen never seeming to have an off night. This time, fish tikka was succulent, while as ever the vegetable curries were terrific. Even the delicate popadoms are a class above the norm.

I had an enjoyable lunch at old favourite Le Gavroche, which offers a very fairly priced lunch, and which is so popular that its Friday lunch can be booked up months ahead. You get less luxurious ingredients than at dinner, but at a fraction of the price at dinner, and of course you still receive the same excellent service that Le Gavroche has been delivering for years. The highlight was an airily light pear soufflé with chocolate sauce.

The 2012 Michelin guide to Germany came out this week. La Vie in Osnabruck saw the cooking of Thomas Bühner was promoted to 3 stars, balanced by the loss of a third star for Schlosshotel Lerbach. However there were no less than ten places that gained a second star. I have long believed that at the high-end, the restaurants in Germany compare very favourably with those of other countries, so it is good to see Michelin promoting more places there; 249 restaurants in Germany hold at least one star. The updated list of 3 star places is here, and the map is here.

The fifth series of BBC's "Masterchef: The Professionals" started this week, with Monica Galetti and Michel Roux Junior from le Gavroche judging the cooking alongside Greg Wallace. I should, as in previous series, pop up in a quarter final as a guest critic.