Revisiting London Restaurants
Saturday, July 29th , 2017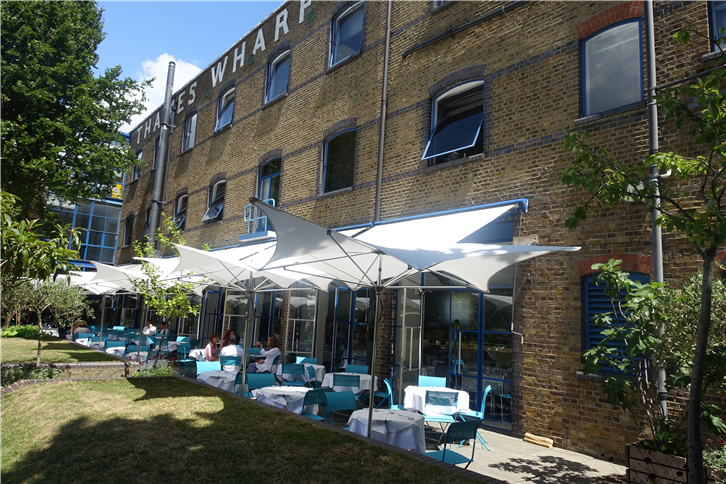 The River Café is an iconic London restaurant, located near the river Thames in Hammersmith (though without a river view from the dining room). On a warm summer day tables are placed outside, and you can dine al fresco in this very pleasing setting. The Italian dishes here have always been simple, bordering on stark, but utilise good quality ingredients, as well they might given the eye-watering prices. Certainly a wild sea bass dish was very pleasant, as was a taglierini pasta dish. However, pleasant though this was, the food seemed a little less good than my previous visits here, yet the prices go only in one direction. Nonetheless, it was packed out, demonstrating that the restaurant knows its audience well.
I couldn't resist another outing to Hedone (my 69th meal there). Even though my previous visit was just a week ago, there were still some new dishes. In particular there was a terrific eel crisp dish, the eel smoked by a gentleman in Sweden who chef Mikael has known since he was a teenager. Lobster with tiny, sweet peas was also superb, as was a dish of duckling with beetroot. The cooking here remains a level above all almost anywhere in the capital, even if the décor and service are not in the same league as the kitchen.
Madhu's at The Sheraton is a sister of the original Madhu's in Southall. It is a much smarter place, but the key difference is the use of a robata grill, which imparts a pleasing hint of smokiness to the food grilled on it. The lamb chops here are superb, as are the achari prawns and, despite the hotel location, almost all the diners here are Indian.
Dastaan was one of several excellent recent additions to the London, or at least London-ish (well, Ewell) dining scene. With a head chef with serious pedigree, the restaurant is nothing to look at, yet the food is up there with the absolute best Indian restaurants in the UK. I could hardly believe how good it was last time, and wanted to return to check I wasn't hallucinating – I wasn't. If you are ever in this part of Surrey then try and make it here, ignore the basic décor and prepare for a treat.
In other news, I was very sad to learn of the death of Helmut Thieltges, head chef of 3 Michelin star Waldhotel Sonnora, where I was fortunate enough to eat some wonderful meals, the most recent just a few months ago in March. RIP.
Next week I will cover my visit to Barcelona, including the newest 3 star restaurant in Spain – Lasarte.