Springing to Life
Saturday, December 06th , 2014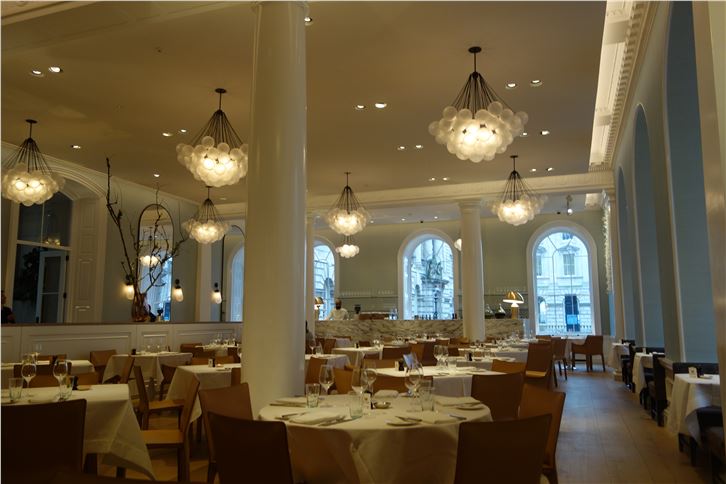 Spring (pictured) opened recently in Somerset House, the newest project of chef Skye Gyngell, who has often been in the headlines for assorted reasons. The room is gorgeous, light and airy, and the waiting staff's bizarre uniforms provide entertainment all of their own. The food was simple but pleasant, with particularly good bread, made from scratch in the kitchen. Prices are set at a fairly demanding level, but so far there seem to be plenty of customers willing to spring for a meal.
At my latest meal at Hibiscus I tried the special offer lunch, featuring three courses, coffee and wine for £49.50. I am generally in two minds about such deals – it fills up restaurants on quiet lunches, and gives diners a chance to sample the food and perhaps return in the evening. On the other hand such deals barely break even for the restaurants, which can be tempted to skimp, serving very cheap ingredients or not trying very hard. The food I tried here was actually very good, with a unusual pork pie ravioli starter and carefully cooked partridge. Consequently this seems like one of London's better lunch deals.
Villa Geggiano is a new Italian restaurant in Stamford Brook, on a site that has seen off plenty of restaurant operators over the years. This one may have more longevity, because unlike many of their predecessors on the same premises, the food served is actually pretty good, and is very keenly priced. The wine list is a real bargain too, with mark-up levels at unusually low levels for the UK. It is not a destination restaurant but is worth a try if you are in the area.
The Brilliant has long been one of my favourite Indian restaurants in London, serving Punjabi fare since 1975. Over the years it has expanded and smartened up, but the food has been consistently good since I started coming here in 1991. The rich methi chicken, made with the restaurant's own masala spice blend, is a particular favourite of mine, and this is one of the very few restaurants in the UK to make romali roti, the ultra-thin bread. My last meal here was as good as ever with, for example, excellent jeera chicken.
The Michelin guide to Tokyo came out, the last country guide due this year except for France (due in February) and Main Cities of Europe/Scandinavia (due in March). There was a new 3 star in the form of kaiseki restaurant Makimura in Shinigawa. Sushi Mizutani and Koju were demoted from their three star status, leaving a dozen three star restaurants in Tokyo - still the most of any city on the planet. There were 5 new two star restaurants, bringing the total to 53, and 19 new one star restaurants, bringing the total to 161.