Back to Michel Guerard
Saturday, June 01st , 2019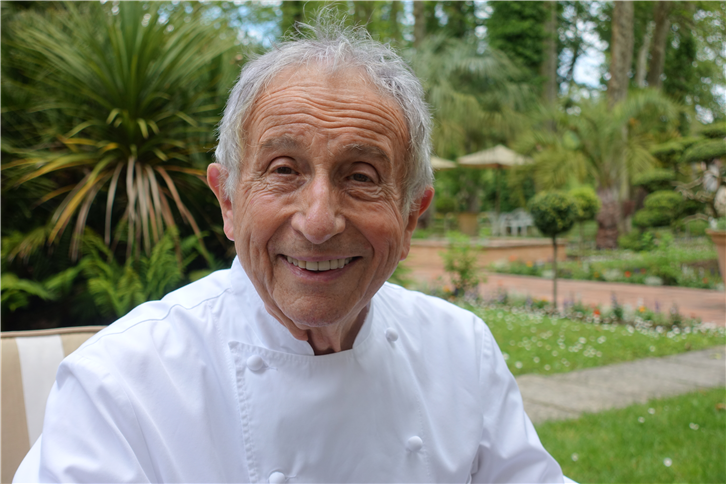 Michel Guerard (pictured) is one of the iconic chefs of France. He was on the cover of Time magazine way back in 1975 as one of the co-inventors of "nouvelle cuisine", a lighter style of French cooking than the heavy creamy sauces of the Escoffier style that had been dominant until then. Setting up a restaurant in a tiny spa town in the south west corner of France, he quickly earned two and then three Michelin stars, and has been cooking at the property ever since. Now 86 years old and having held three stars for a remarkable 42 years, he is still to be seen at virtually every service, looking remarkably spry.
The cooking at Pres des Eugenie is classical and surprisingly simple: there are never more elements on the plate than are needed. We had two meals at the main restaurant, and sampled glories such as "morel pillows" and "truffle zephyr". The lobster here is dazzling, as was a whole guinea fowl roast in the embers of an open fire, and a gorgeous pigeon and duck liver pie. Michelin Guerard earned the prestigious MOF accolade in pastry 1958 (!) and the desserts here are as lovely as you might hope. There are even a few bargains tucked away in the higher levels of the wine list, with some admittedly prestigious bottles well below their retail price. I think it is fruitless to argue over what is the "best restaurant in the world" but I do know that this is my favourite.
We also had two meals at the rustic Ferme au Grives, which is set in an old barn and which produces superb food using the same fine local produce, but with simpler dishes with less luxury ingredients. The roast chicken here tastes fabulous, but there are no truffles under its skin as in the three star restaurant. The cooking is still to a very high standard though, with stunning gougeres and fine suckling pig, along with superb penne pasta with wild mushrooms and Parmesan sauce. Desserts are dazzling, with fabulously light puff pastry in the apple tart. Three courses plus side dish and canapés are a mere €52, an absolute steal. I love this restaurant almost as much as the main one. In terms of value for money it is off the scale.