Frome Ewell to Belgravia
Saturday, October 12th , 2019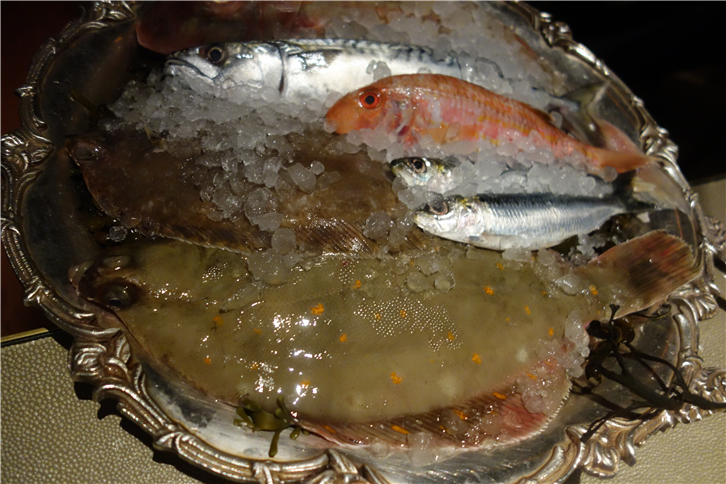 Siren is the newest restaurant of Nathan Outlaw, the chef whose seafood restaurant in Cormwall has two Michelin stars. This new venture is in the Goring hotel in a purpose-built conservatory. The menu features lots of seafood brought daily from Cornwall, and indeed a display of it (pictured) is shown to you as you sit down. The menu is appealing and the product quality good. Service was particularly impressive, and although prices are high you are sitting in not just any hotel, but the hotel that is favoured by the royal family, so this was never likely t be a cheap outing.
Dastaan out in Ewell is a little gem of an Indian restaurant, with two senior chefs from a Michelin starred restaurant cooking in simple premises in a parade of shops. The food is great and prices are modest, and the little place is packed out. They do at least two sittings for dinner even on weekdays. I have tried most of the menu by now, and certainly classic dishes like butter chicken is great, but also some other dishes really shine e.g. their spinach and mushroom side dish. Breads are light and fluffy and spicing is vibrant. This is the sort of restaurant that you dream of having locally but never do, unless of course you live in Ewell.
The UK 2020 Michelin Guide was announced at a ceemony attended by 450 people at the Hurlingham Club in Fulham. As usual the results were a mixture of sensible and puzzling. Sketch got a third star, to the general bemusement of the audience. The Araki, whose eponymous founder returned to Japan, was delisted entirely by Michelin, though it is still open, being run by Mr Araki's apprentice.There was a second star for The Dining Room at Whatley Manor, and also for Dame de Pic. I was pleased to see a second star for the Greenhouse in Dublin, while Aimsir in Ireland jumped in at two stars after only being open a few months. I was very pleased with the Dysart getting a star, while the chef at Endo at the Rotunda was visibly emotional on receiving his star. There were new stars for Da Terra and Maos in East London. Outside London there were stars for Mana, Alchemilla,,Allium, Artichoke, Cottage in the Woods, Interlude, Old Stamp House, Opheem, Pensons, Stark, Royal Oak (in Whatcote) and The Tudor Room. In Scotland both Condita and Isle of Eriska gained stars, while in Wales Beach House gained a star, as did Muddlers Club in Belfast. In Ireland there were stars for Bastion, Variety Jones and The Oak Room. A number of places lost stars, including Benares, Galvin at Windows and Yauatcha in London. Outside London there were demotions for Yorke Arms, Tyddyn LLan, The West House, Driftwood, 21212, Samphire, Fischers at Baslow Hall and Gidleigh Park. Overall, the UK and Ireland guide now lists 5 three Michelin star restaurants, 23 two star restaurants and 159 one stars.