StreetXO comes to London
Saturday, January 28th , 2017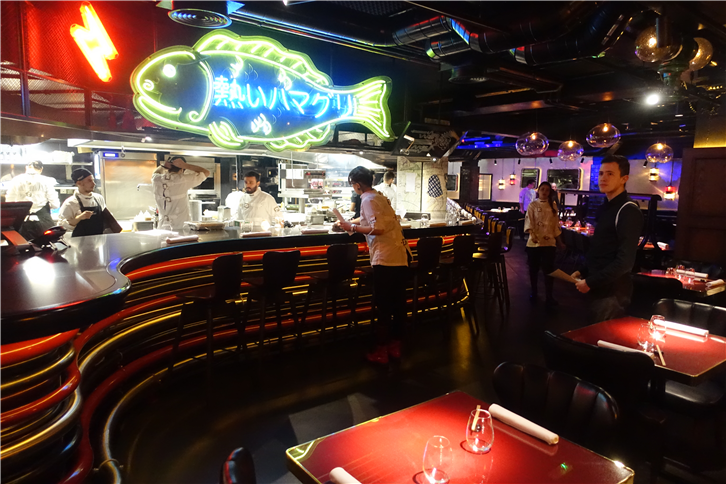 StreetXO is the sister of a restaurant of the same name in Madrid, both being spin-offs of three star Michelin DiverXO. David Munoz's cooking style brings together Spanish cooking and Asian flavours and spices, all with a flourish of showmanship. StreetXO in London opened to some pretty poor reviews, so I deliberately left it a few months before trying it, in order to let the kitchen settle in. I am not sure what transpired in the early days, but the meal that I had was very good, sampling quite a few of the dishes, as can easily be done given the "small plates" format. It is not particularly cheap, but you are in Mayfair, and if you sit at the counter then you interact with the chefs, which is fun.
Flora Indica is a modern Indian restaurant in Earls Court. It has some quite bold ingredient combinations, and had the potential to be a train wreck, but I found the food to be generally of a good standard. Certainly the black dhal, paneer pakora and Jerusalem artichoke chaat were genuinely good, and there were only a couple of small slips. This was early days and doubtless the menu will continue to evolve, but it will be interesting to see how this restaurant develops.
I had another enjoyable meal at The Ritz, this time a private function that involved trying several vintages of Cheval Blanc, so not the toughest of assignments. The event was in the William Kent private dining room, a particularly beautiful room with a gorgeous ceiling. If you are considering a special event for about twenty people then you might like to look into this as a possible venue. The food comes from the same kitchen as the main Ritz dining room, so is not some sub-standard catering fare.
I also had another enjoyable meal at Talli Joe, trying out some new dishes. This restaurant's food belies its casual exterior, with its head chef producing some of the better Indian food in London at present. Given its modest price point that is even more reason to go there.