This week I try two ambitious London openings
Saturday, September 29th , 2012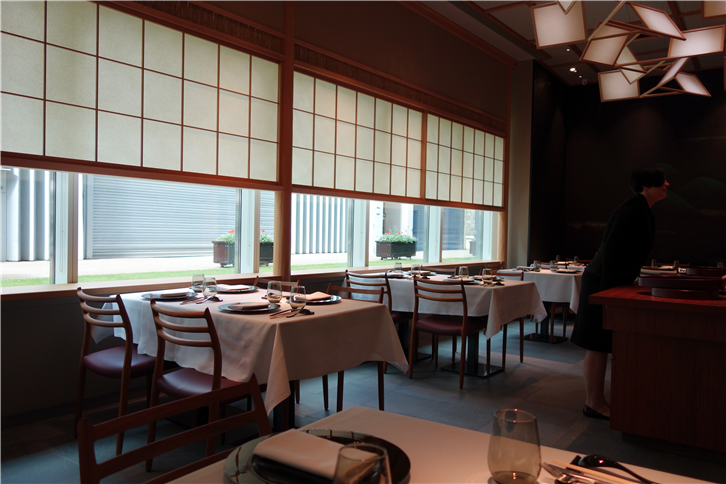 I had high hopes of Chrysan (pictured), which is the latest venture from Hakkasan Group, offering Japanese food rather than the Chinese cooking of their main outlets. In particular I was intrigued that the chef there had worked at Kikunoi in Kyoto, a serious kaiseki restaurant. However, although the room is smart and the service was top notch, my lunch visit was a rather mixed affair. Some effort had gone into sourcing, as shown by high grade beef, but the sushi was disappointing. It is always tricky going to restaurants soon after they open, but there was no kindly soft opening pricing, so the place needs to justify its hardly bargain-basement bill, and in my view it did not.

Il Ristorante is one of those places that would be easy to dismiss, residing as it does in the Bulgari Hotel in Mayfair, and clearly aimed at wealthy clientele. That would be a pity, since the chef here actually has a strong pedigree with Alain Ducasse, and can cook very well indeed. The food was surprisingly rustic, with artisan pasta with tomatoes very well made indeed, as was a classic risotto Milanese. The room is really beautiful, with a sweeping staircase, and the attention to detail was considerable, from the home-made bread to the excellent coffee. Service was also top notch. Sure, this was hardly a bargain meal, but it was no more than you would spend at plenty of restaurants in the area.

Zafferano is highly consistent in my experience, always doing a fine job with their salads and pasta in particular. Cuttlefish salad with green beans was excellent this week, as was ravioli with grouse and pheasant with a rich meat sauce. Gnocchi, so often disappointing in restaurants, here is light and delicious. Service has always been excellent here. The loss of its Michelin star is puzzling to me, as this is a regular haunt of mine and I have not noticed any change in the cooking here.

It was my first visit to l'Autre Pied since Andy McFadden took over the kitchen from Marcus Eaves. Garganelli pasta with crab was good, as was sika deer with pears, amongst other dishes tried. The new chef does seem very keen on adding a crunchy textural element to his dishes, as nibble after dish after dessert all had some form of flaky/crunchy component, which was fine for some of the dishes but seemed superfluous in others. Still, this was a good meal, and I have nudged my web site score up a notch from my previous visit.

In farcical scenes on Thursday morning, the Michelin web site inadvertently started to show the new UK stars, which were officially under wraps for a formal press launch on October 4th. Michelin eventually woke up to this after being asked for confirmation that the new stars were correct, then took the site back to its previous state, but not before screenshots of the new awards were all over Twitter. After an ostrich-like phase when they initially said that the press release would go ahead as planned a week later, they finally bowed to reality and late on Thursday announced that the leaked results were correct.

There is no change at the three star level, but two stars for Sketch, l'Enclume and Michael Wignall at The Latymer. There were first stars for Hedone, Alyn Williams at The Westbury, Medlar, Trishna, Launceston Place, St John Hotel and Dabbous, and a regained star for Tom Aikens. In the rest of the UK there were stars for Alimentum in Cambridge, The Hinds Head in Bray, Paul Ainsworth at Number 6 in Padstow, Tristan in Horsham, Thackeray's in Royal Tunbridge Wells, The Red Lion in Pewsey, Raby Hunt in Darlington and The Bath Priory. In Ireland there were stars for Aniar in Galway and Locks Brasserie in Dublin. Gauthier and Zafferano lost their one star, as did Coworth Park, Reads, Sharrow Bay, Auberge du Lac and The Olive Branch and Beech House. Congratulations to all the new starred restaurants/chefs.

This blog will appear a day later than usual next week due to some travel.