The Food of Birmingham
Saturday, March 25th , 2017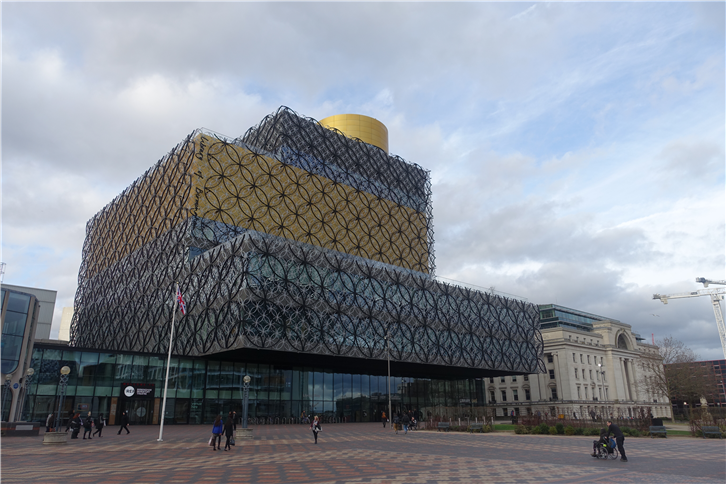 It has been ages since I have been to Birmingham, which now boasts no less than six Michelin-starred restaurants as well as a particularly fine modern library (pictured), which was short-listed for the Stirling prize and is currently the tenth most visited tourist attraction in the UK.
Purnell's delivered an inventive and enjoyable meal over the course of a nine course tasting menu. The best dish, a monkfish masala with spiced red lentils, was genuinely excellent, and the general standard of dishes of good. Service was slick and this certainly felt like it deserved its Michelin star.
Carters of Mosely, another starred restaurant, was rather disappointing by comparison. There were some good dishes in the meal, such as a starter of chicken liver parfait with cereals, but there were also some problems. A duck dish with soy was grotesquely salty, and sadly desserts followed the Scandinavian style of savoury dishes: kelp with black rice tasted about as appealing as it sounds as a final course. Presentation was an afterthought and although the waitresses were nice, I found the meal overly erratic.
The best meal of the week was at Adam's, yet another of Birmingham's burgeoning set of starred restaurants. This boasts very smart décor and exceptionally capable service. More importantly the food was also impressive, with a high standard maintained through a lengthy array of nibbles and then a tasting menu. The best dishes were really top notch, and I thought this was more two star level than one.
By repute the best Indian restaurant in town is Lasan, and it is certainly quite ambitious. The décor is smart and the menu has all sorts of exotica that you will not find on the menu of your local Indian restaurant. Generally the food was quite good, with impressive soft shell crab with chilli, and a capable rendition of chicken jalfrezi using a higher quality bird than is usually seen. Service was a lot less smooth that they probably think it is, and the prices are quite high, but this was certainly a pleasant experience.
Adil's is very much at the other end of the smartness spectrum, a brightly lit place in Sparkbrook that claims to have been the first Birmingham restaurant to have brought "balti" cooking to the UK. It was cheap and cheerful and surprisingly spicy, though the vegetables were overcooked and the dishes were a touch oily. However it was quite a fun experience.