Fine Dining of Shanghai
Saturday, August 25th , 2018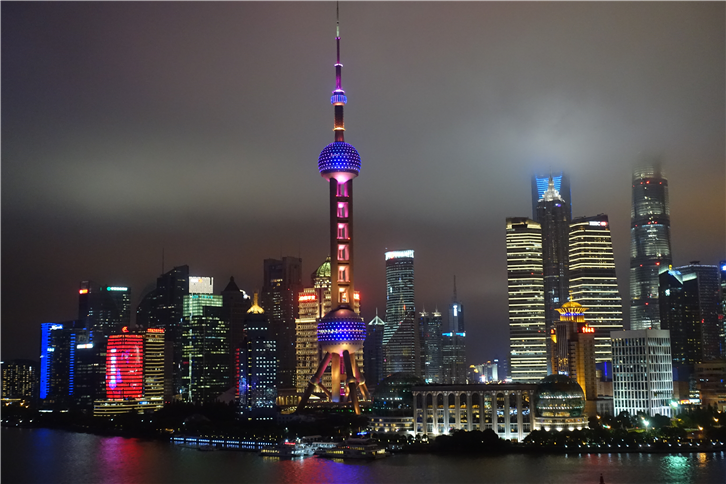 The vast metropolis of Shanghai, perhaps the world's biggest city with its population of twenty five million, has for two years now had a Michelin Guide. There is currently a pair of three Michelin star restaurants, Tang Court and Ultraviolet. Tang Court is the sister restaurant of a place of the same name in Hong Kong, another three star recipient. Given my experience at the mothership in Hong Kong I was not expecting much from Tang Court here. Although it is certainly a long way from three star in any sane assessment, Tang Court here was a bit better than its Hong Kong equivalent. It is clearly aimed at the corporate expense dinner market and most of its space is given over to private rooms. The pricing is distinctly, indeed wildly, ambitious for the quality of the food, however.
Ultraviolet is a different story. It provides a very unusual dining experience. Things are restricted to ten diners each evening, who share a complete culinary and sensory experience including music, video projection, scents and elaborate lighting. It is as much theatre as a meal, but the food was mostly very impressive, and although it is very expensive (thirty staff serve ten diners, so can see why that might be) it was great fun.
I also tried all of the half a dozen two star places in Shanghai. One is Atelier Robuchon, so is a well known quantity; it is designed to be a consistent chain, and unsurprisingly it is just that, and for me a very good albeit expensive one star restaurant rather than a two star. Otto e Mezzo Bombano is another sister of a Hong Kong three star of the same name. The version here also cooks Italian food with very luxurious ingredients, aimed firmly at the wealthy. The Shanghai version just about had the edge for me, with several very good pasta dishes in particular. The kitchen did best when sticking to Italian classics, and was less surefooted when it used exotic luxury ingredients that you would not usually see in Italian cooking, like abalone and sea urchin, that are doubtless targeted at the local high end business customers. Its pricing is very ambitious but it has been here for several years now, so clearly knows its market.
The other four two star restaurants here are all Chinese. Canton 8 is, as its name suggests, a Cantonese restaurant that was served some quite capable dishes, especially a "pineapple char sui bao", at an almost absurdly low price. Yong Foo Elite had an interesting setting inside a historic building that reeks of faded grandeur and was once the British embassy. Sadly the food there did not live up to the surroundings, and was far, far short of what you would hope for from a one star Michelin restaurant, never mind a two star. Better was Imperial Treasure, a large restaurant turning out capable food at surprisingly modest prices. Again its Michelin assessment makes little sense, but it was an enjoyable and affordable experience. Worst of the bunch was Yi Long Court, a hotel restaurant serving mediocre Cantonese food at high prices, accompanied by comically inept service. At the one star level I was pleasantly surprised by Bo Shanghai, which I thought was better than its flagship sister restaurant in Hong Kong, though its food is highly priced.
Shanghai is yet another of the crop of Asian Michelin guides whose scoring makes very little sense, along with the guides to Seoul, Taipei, Singapore and indeed the longer established Hong Kong guide. Ultraviolet is a top class restaurant and a pioneering experience, so I have no issue with its rating. But Tang Court and the clutch of four two star Chinese restaurants offer food that ranges from one star level to downright mediocre. If you stood in, say, Queensway in London and threw a stick then you would probably hit a restaurant that would outperform most of these places, especially if you got lucky and hit Royal China. Yet no one, least of all me, is suggesting that Royal China deserves a couple of Michelin stars, much as I love the place. This view was shared by the group of extremely well travelled Chinese gourmets who accompanied me at these meals. As we shall see next week, there is some genuinely top class cooking going on in China, just not in any of places in Shanghai that Michelin has scattered multiple stars to. On this trip I also tried some more unusual and very local restaurants, of which more in the blog next week, which will also cover my first visit to Hangzhou. That is a city with some very interesting restaurants indeed. Stay tuned.