California Dreaming
Saturday, May 17th , 2014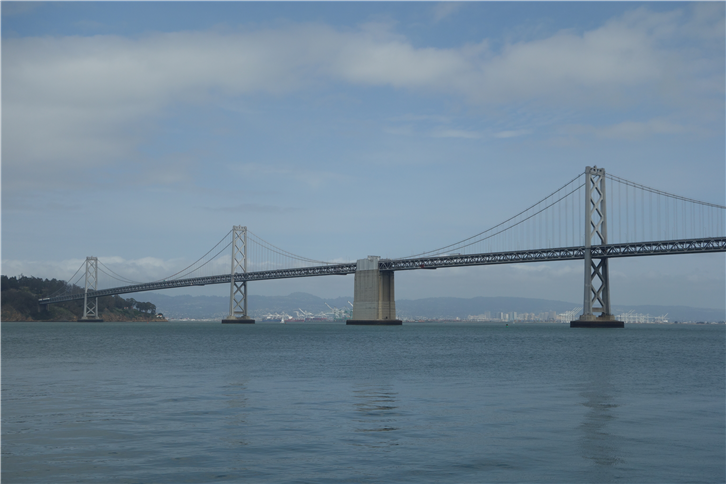 San Francisco is my favourite US city, its steep hills concealing striking views over the ocean (the Oakland Bay bridge is pictured) and the interesting architecture of the place itself. There is much to enjoy here by just walking around the very different neighbourhoods, from the Victorian grandeur of Nob Hill through to the bohemian Castro district with its lovely old cinema. Moreover, the sequoia forest glory of the peaceful Muir Woods is just a short drive over the Golden Gate bridge.
Tadich Grill is a venerable institution in San Francisco, claiming to date back to 1849 (though that date requires a certain flexibility of definition). It did the "no reservations" format over a century before that became fashionable, serving seafood either at closely packed tables or along the lengthy bar counter. To be honest the food is pretty basic and the price rather high for the quality of food, but this doesn't seem to put people off. It is packed out, turning tables and bar seats at a ferocious clip.
At a more serious level I tried a trio of two Michelin star restaurants, completing of my coverage of all two and three star restaurants on the west coast of the US. Baume is in Palo Alto and has an unusual format. The no-choice tasting menu is de rigeur these days in so many places, but what it is very rare indeed is that the restaurant has no wine list, offering a couple of wine pairings by the glass as the only available drinking options other than water. I guess this avoids having the expense of building up a cellar, but seems also to miss an opportunity given the wealth of the area. The food itself was pleasant enough but far from exciting, the modern cooking seeming to be showing off culinary technique rather than aimed at providing pleasure to diners. It was interesting, if presumably unrepresentative, that there were just five diners, including me, on the Friday lunch when I went.
Much better was Benu in San Francisco, another modern tasting menu only joint, but one with high quality cooking and charming staff. The menu was too long to easily summarise, but star dishes included anchovy with peanut puree on celery, and a "beggar's purse" of Iberico pork and truffle in an acorn flour pastry case. Only desserts felt like an afterthought, as they so often do in modern restaurants, which for some reason seem to eschew traditional pastry pleasures for oddball concoctions.
I also returned to Saison, which has now relocated to new and much smarter premises, as well as having built up an impressive wine list. I had a rather mixed experience last time, but the cooking this time felt much more assured. In the lengthy tasting menu some highlights were a prettily presented warm salad with celeriac, and also a lovely dish of wood pigeon with morels.
I am delighted to add to the website a chef interview with Harald Wohlfahrt, the iconic chef of 3 star Michelin Schwarzwaldstube.