The ambitious new Aqua
Saturday, November 14th , 2009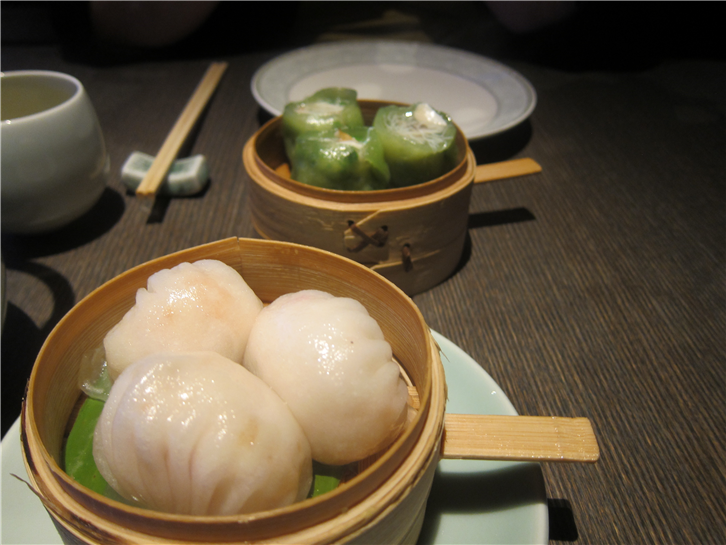 The Aqua restaurant group runs a string of restaurants in Hong Kong and elsewhere, and chose the old Dickens and Jones building on Regent Street for their first European venture. There are several roof terraces, a rarity in central London, and a pair of adjoining restaurants, one Japanese and one Spanish, plus a bar. Money has been lavished on the décor, which is very smart indeed, and this appears to be aiming at the beautiful people of London.
Judging by the lunch I ate at Aqua Kyoto, it is certainly not aiming at the discerning diner. Dish after inedible dish appeared, featuring an array of basic culinary errors. A tian of prawn arrived as if straight from a blast chiller, tempura was flabby and unevenly cooked, while scallops were badly overcooked. This was a train wreck of a meal; major surgery is required in the kitchen, in my view.
It would not be hard to impress after that meal, so Aqua Nueva came as a welcome relief. This is a tapas bar-cum-restaurant, and the tapas dishes I ate were mostly competent, if hardly dazzling. Croquettes were tasty and pata negra was hand cut and very good, though a tortilla didn't really work.
Given how experienced the Aqua group are (Hutong is a class act), and the lavish refurbishment, it is strange how the Japanese restaurant in particular could produce such poor food. I have briefly met the owner of Aqua, and he seemed a genuinely committed individual. This may be a place to try in a few months when it has settled down. For now, it would be a good place to have a drink at the smart bar and perhaps nibble some tapas, but I'll need some evidence of major change in the kitchen before I venture back to the Aqua Kyoto restaurant.
Chiswick has a few decent places to eat, one of which is Sam's Brasserie. A Caesar salad had lettuce that was not as crisp as I would like, the dressing lacking flavour, with no anchovies but a slice of decent bacon in its place (1/10). Breast of chicken was nicely cooked, served with a reasonable if slightly thin mushroom sauce (2/10). My wife's sea bass was farmed but was properly cooked, but with a horseradish sauce that was too strong in places, even for me (maybe (2/10). Service was efficient, though our Polish waitress seemed a little reminiscent of a Soviet era waitress at times in her manner. A decent meal, but no more than that, and £40 a head for two courses and a wine from the cheaper end of their list. Sam's Brasserie is within walking distance of my house, and once a year I pop along, give it another go and have an adequate, respectable yet just marginally disappointing meal, just like tonight.
After some ordinary (and worse) food this week it was good to return to Yauatcha, which produces consistently superb dim sum. I enjoyed old favourites like har gau (steamed prawn dumplings), which are light and delicate with a carefully cooked prawn at their centre (pictured); similarly baked venison puffs have excellent pastry and just a hint of sweetness (5/10). Soft shell crab was impressive, its batter crisp and the crab flavour coming through, while onion puffs (which also had some mushrooms) were also well made. Char sui buns are so fluffy that the outside is like eating a cloud, before you reach the rich taste of the pork inside (6/10). Crab dumplings were also delightful. This restaurant has yet to disappoint me.
It is white truffle season, and so this was the highlight of my meal at Zafferano. With white truffles you do not want anything too complicated which might distract, and I went for a simple tagliolina pasta dish. The fragrance of the generously sliced Alba white truffles is a special thing, as well it should be at a £35 supplement, but after all a white truffle costs over £2,000 a kg, so it is never going to be a cheap option on a menu.
The 2010 Michelin guide to Germany came out, with no changes at the three star level. There is one promotion to a two star restaurant, La Pavillon in the Black Forest. There are also 23 new one star establishments. In total Germany has 9 three star places, 18 two star and 198 one star.
I popped into the Masterchef show at Olympia on Friday, which was certainly a huge event. As well as the vast trade show, there were various cooking demonstrations, and Messrs Wallace and Torode were in evidence. A number of restaurants had booths set up doing small sample dishes, and I had good haddock chowder from Helena Puolakka's team at the Skylon booth, and a venison burger from Tristan Welch's Launceston Place, courtesy of Steve Groves, who is a sous-chef there and recently won the Masterchef Professionals competition.