A trio of top meals at HKK
Saturday, March 09th , 2013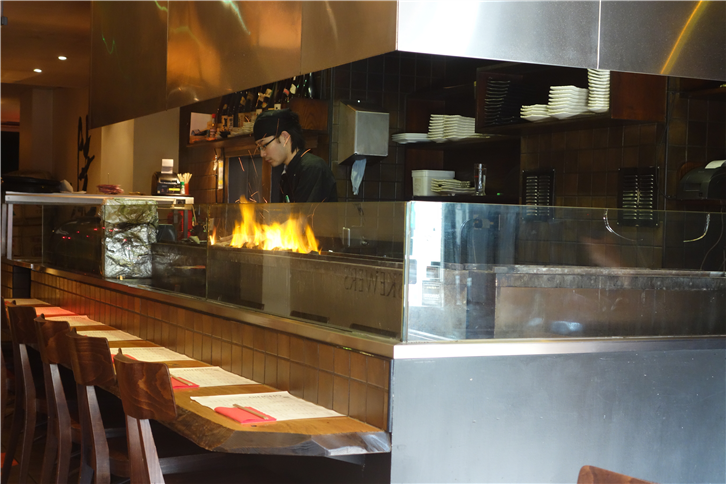 Bincho Yakitori (pictured) is a simple Japanese grill restaurant, offering skewers of chicken and assorted other items grilled over charcoal. Ironically for a place specialising in chicken, I actually found the grilled chicken the least impressive item. However, grilled pork belly, an excellent grilled mackerel and even a well-constructed salad were very nice indeed. At under £20 a head this was good value for central London.
This was my third meal at HKK, without doubt the best Chinese restaurant in London. The tasting menu format has stayed the same though one or two different dishes were offered from our first visit. Ingredients are of an unusually high standard for Chinese food in London e.g. excellent monkfish, Bresse chicken, wagyu beef. Above all though the precision of the cooking is impressive, with very tender lobster, supremely delicate gai lan and fabulous dim sum showing a high level of skill. I have not had any better Chinese food in Hong Kong, let alone London.
The Duke of Sussex is an above average local gastropub serving a mix of pub grub and Spanish dishes. Fish and chips had reasonable batter, the chips could have been crisper, but overall this was pleasant enough. Seafood paella was better, the rice nicely cooked, while a tortilla had good texture. The other nice thing about this place is the moderate prices: £27 a head for plenty of food and wine.
The Brilliant was on its usual good form, cooking some excellent aloo tikki as well as rich methi chicken. Even on a Sunday evening the place was packed out, a testament to just how consistently good it has been since the 1970s when it opened. If you ever wanted to know how to cook Indian food properly, they also now offer cookery classes.
In other news, it was a shame to see The Crown at Whitebrook close this week. It is not as if Wales had a surfeit of Michelin starred restaurants. Another restaurant to fold is the River Room at The Savoy. The revamped River restaurant lasted only just over a year. It will reopen in 2013 in a different form, reportedly a seafood restaurant called Kaspar's Seafood and Grill. Kaspar is the Savoy cat, sadly a three-foot high wooden black cat statue rather than the real thing, used as a lucky charm from the 1920s onwards to act as the "fourteenth guest" to any private function unlucky enough to have thirteen diners.
This blog will deviate from its usual Saturday slot over the next couple of weeks due to some travel.