Michelin stars at the seaside
Saturday, July 20th , 2013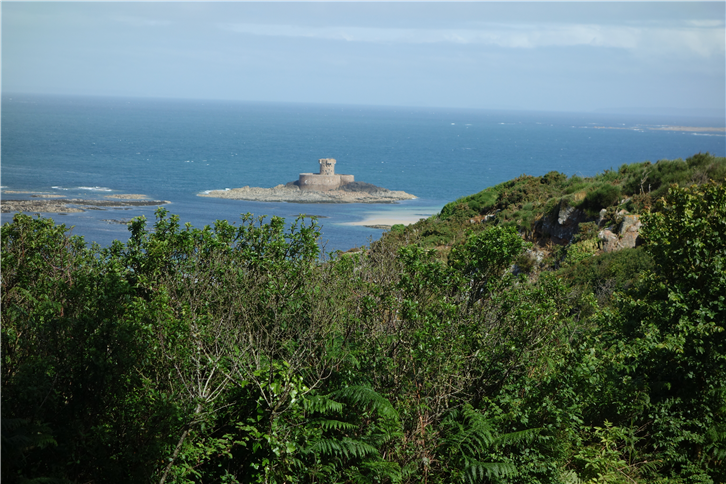 I recently visited Jersey (pictured) for the first time, trying two of its Michelin-starred restaurants. Jersey is geographically much closer to France than the UK, and has plenty of local agricultural produce that its restaurants can draw upon. The chef at Ocean reckoned that 90% of the vegetables that he used were local, in addition to the dairy cattle and seafood of the island. The chef at Bohemia told me that there was so much lobster around than he gets two deliveries a day.
Ocean is set in a hotel on the coast, and serves classical food. I particularly enjoyed a Black Forest gateau dessert, whilst a starter of tuna with wasabi mayonnaise was also very good. Bohemia has a more modern feel to it, in the financial district of St Helier, the largest town of Jersey. The standard of cooking throughout a long tasting menu was high, and I particularly liked a turbot dish with cauliflower cream and pickled cauliflower. I also sampled the cooking at Mark Jordan at The Beach, the casual sister of Ocean, itself with a Michelin bib gourmand. The restaurant lived up to its name, situated directly on the beach, and served a very good luxurious take on a burger, as well as an excellent lobster bisque.
I then travelled north for a different seaside Michelin experience on the Baltic coast. Travemunde is north of Hamburg, a busy ferry port and home to Germany's latest three Michelin starred restaurant, La Belle Epoque. Set in a casino with a dining room overlooking the beach, the cooking here was very intricate, with the dishes often having elaborate back-stories. Although presentation was beautiful and the cooking technique exemplary, I didn't feel that the food really came together in a coherent way, though there were certainly some fine dishes in the menu.
I preferred the cooking at Jacobs, a two Michelin star restaurant in Hamburg overlooking the river Elbe. The food here used top-notch ingredients and had a more classical style, with less emphasis on elaborate presentation and modern cooking techniques. The standard was consistently high, but a turbot dish, served simply with a beurre blanc, was of stunning quality. Also excellent was venison with root vegetables and an intense-flavoured sauce. Both these restaurants had excellent ranges of German Riesling, which I love, mark-ups that seem a bargain by London standards.
I am pleased to add Steve Smith and Mark Jordan to the gallery of chef interviews. Steve is head chef of Bohemia in Jersey, and Mark is head chef of Ocean.
In other news, it was announced that Can Fabes, which until 2012 held three Michelin stars, would close permanently at the end of August. A pity, though I must say that although my first meal there was superb, subsequent meals showed a steady decline from that high standard.