The Corbin & King Empire Expands Further
Saturday, August 02nd , 2014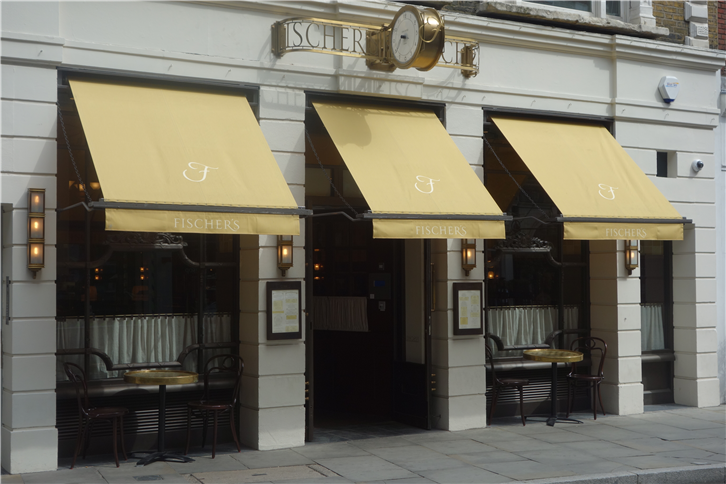 Fischers (pictured) is the latest Corbin and King restaurant, and like The Delaunay it echoes an early 20th century Viennese café with its art deco décor. The menu and wine list both have a lot of Austrian choices, so you can eat schnitzel and strudel after your herrings, for example. As ever in this group, service is very carefully drilled, and although the food is not going to set the world alight with its innovation, that is not the idea. It is a useful addition to the already busy Marylebone dining scene.
The New Angel marks the return of the controversial John Burton-Race to the London restaurant scene, this time in a Notting Hill bistro rather than the grander surroundings of The Landmark, where a decade or so ago he earned two Michelin stars. The food here is less ambitious but at this meal was old-fashioned but enjoyable, a menu of appealing classical dishes. Service was a touch fussy but very good, and the meal featured just one dish that didn't work so well, balanced by one superb dessert. Pricing is high, both for the food and the wine list, and that will be the main challenge to its long-term prospects, but the food itself was fine.
Madhu's at the Sheraton continues to produce very good Punjabi food, the cooking highlight being its robata grill, which gives a pleasing charcoal smokiness to dishes that would usually be cooked in a tandoor. For example the tandoori lamb chop here is really special. The dining room is very smart, especially given its Heathrow hotel location, and if you are in the area is well worth a try. It is the best of the trio of smart Indian restaurants that have recently opened in Heathrow hotels.
Antidote is a restaurant above a wine bar near Carnaby Street where Mikael Jonsson of Hedone has been hired to improve the cooking. He has hired the chefs and supplies the bread and ingredients. Given the quality of these, it is not a surprise that the food at Antidote can be impressive. This week quail, pollock and short-rib of beef were all impressive. Even in the desserts the fruit shone with flavour in a way that it is rarely does in the UK. This is stripped-back cooking based on high-quality ingredients, and at a very modest price point (three courses at lunch is £33, four courses at dinner £40). There is worse food to be had in plenty of Michelin-starred restaurants in London.
I am pleased to add to the chef interviews that of Philippe Mille, head chef of the superb Les Crayeres in Reims.