New Year dining and an interval
Saturday, January 06th , 2018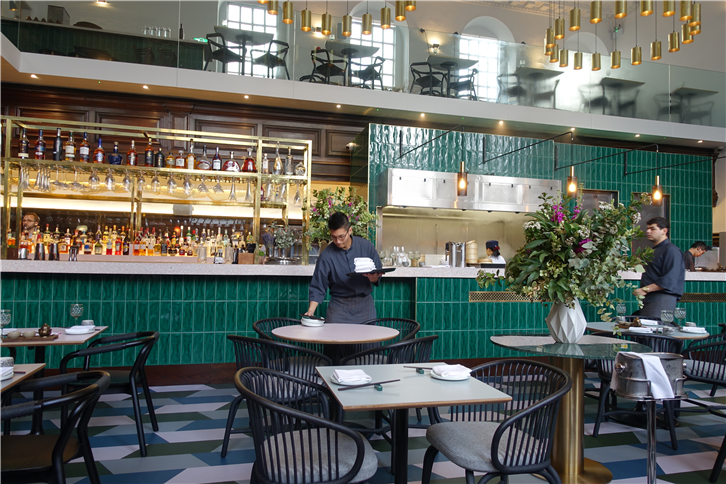 Duddels (pictured) is a Hong Kong restaurant with a Michelin star (formerly two stars) that opened in London Bridge in late 2017 in a former church. It has a large, airy dining room and serves Cantonese food, featuring the use of some luxury ingredients such as Bresse chicken. The food at my meal was quite mixed, with some very good dim sum, but also some ordinary pieces too. Peking duck looked pretty but had flabby skin, and crispy salted chicken simply wasn't remotely crispy. A dessert was seriously flawed. Service was fine but at the steep prices here I would expect much greater consistency.
Antica is a pizzeria in Hampstead that is very popular. We tried two pizzas here, and certainly the Naples style pizzas had an authentically soft and supple base, in this case with a particularly fluffed up crust. However the toppings let things down, with for example some completely tasteless button mushrooms that I think were tinned. The shambolic service was also a distraction. If I lived nearby then I would return, especially given the paucity of alternatives in Hampstead, but I don't think this is really up there with the very best pizzas in London.
Dastaan in Ewell is the surprising location of the former head chef of Michelin-starred Gymkhana. Despite its distinctly simple décor and crowded dining room this is well worth a trek, as the food is terrific. The chef and his team seem more at ease cooking here than they were at Gymkhana, and I think the food here is quite a lot better than when he was cooking at the flashy Mayfair location. At this meal the red pepper prawns and stone bass were exceptional, but so was the chicken tikka biryani, and the overall standard was high. The location is rather out of the way but I think it is well worth a journey, since as far as I am concerned there are just two other Indian restaurants (Jamavar and Indian Accent) cooking Indian food at this level.
I also had further excellent meals at The Ritz and Indian Accent, but have recently written at length about both of these restaurants so I won't repeat things.
January is generally a very quiet time for restaurant openings, as any sane restaurateur tries to open in time for the busy run up to Christmas unless their builders conspire against them. Many restaurants close for a few weeks for minor refurbishment in what is traditionally the quietest month of the year in the trade. Given this, I am going to take a short sabbatical in reviewing for a few weeks. This blog will resume in early February, and by then there should be plenty on which to catch up. In the mean time, happy eating to you all.