Top 50?
Saturday, May 03rd , 2008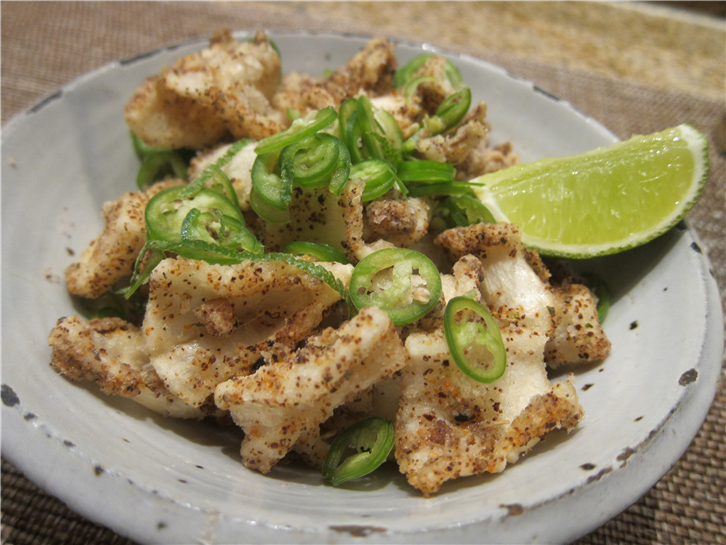 I continue to be impressed by the quality of the food (squid pictured) at
Zuma
, a place which is so trendy that it hardly seems as if they need to try as much as they do. Yet the cooking never seems to miss a beat, however busy the restaurant is, and even on this Tuesday it was heaving with pretty young things (plus me). The stand-out dish was a perfectly cooked piece of pork belly with a yuzo mustard miso, a simple but delightful combination where the sauce was really well designed to go with the pork, a lovely balance of acidity with richness. I have bumped up the score of Zuma to 6/10 on the site based on this and the last meal I had there.
The
Royal China
is somewhere else that never disappoints, and our steamed sea bass with black bean sauce and stunning steamed gai lan with garlic were as well made as ever. The gai lan in particular is a dish to try if you ever wondered whether a simple vegetable dish could really be exciting.
It was my third visit to
Bentleys
, Richard Corrigan's excellent revamp of the old seafood and oyster bar in Swallow Street. My last visit was not quite as good as the superb first meal I had there, and this meal again, while very nice, was a little worse still. The tiger prawns with chickpea puree were very tender, but my smoked eel was oddly dull (and a tiny portion to boot) and the haddock merely capable. Service had its off moments too, and I feel this place is slipping a bit from its previously very high standards.
Rasa Maricham
is a little gem hidden away in a Kings Cross Holiday Inn, one of the Rasa group of Keralan restaurants. Mysore bonda, a peppery rasam soup and a good uttapam (Indian pizza) were all excellent, as was a fine paratha. Diners are mostly mostly hotel guests who must hardly believe their luck in stumbling into this when they probably expected a carvery.
I also had a very pleasant pizza at local family-run
Tarantella
, where the staff have such genuine enthusiasm that you could almost be in Italy.
Given the amount of interest there seems to be in the "Top 50" restaurant awards, I thought I'd share a little more information about how they are put together. The world is divided into 23 regions and countries, mostly with 31 votes each (I've no idea why 31). Hence the UK has 31 votes, but so does France Germany, Iberia, Benelux etc. Japan and Korea get 31 votes, as do Southern Africa and even Eastern Europe (good luck finding top food there). There are 682 panelists in all, each with five votes (and only two votes can be cast in your own region), so 3,410 votes are available. In the UK these panellists are:
Alan Yau, Andy Hayler, Angela Hartnett, Bruce Palling, Chris Chown, Claude Bosi, Daniel Clifford, Eric Chavot, Fay Maschler, Giorgio Locatelli, Gordon Ramsay, Henry Harris, Heston Blumenthal, Hilary Armstrong, Jay Rayner, Jennifer Sharpe, John Campbell, Mark Hix, Maureen Mills, Michel Roux JR, Moby Pomerance, Oliver Peyton, Philip Howard, Pierre Koffman, Raymond Blanc, Richard Corrigan, Simon Wright, Stephen Harris, Terry Durack, Tom Aikens, Trevor Gulliver.
The system seems reasonably sensible to me, as while one can argue about who should get more votes, no one country is obviously favoured. This does make it all the more bewildering when you see the final list, which clearly has some surreal rankings and omissions. Perhaps chefs are very fashion conscious or want to reward people they see as innovators in one way or another, such as Ferran Adria or Fergus Henderson. Either way the UK seems to me more than kindly over-represented, since aside from the Fat Duck, no UK restaurant is obviously top 50 material to me. Japan seems oddly absent, but perhaps few of the panellists have been to Japan. Even if all the panellists in one area voted for the same place, it would be hard to get in the top 50; you need votes from elsewhere. There is also a "next 50", from Taillevent at 51 to ABaC in Spain.
Well, best not to agonise too much over the list; it is an undeniably successful PR exercise and gets people talking about top restaurants.