From A Smokehouse to an ex Hospital
Saturday, May 23rd , 2015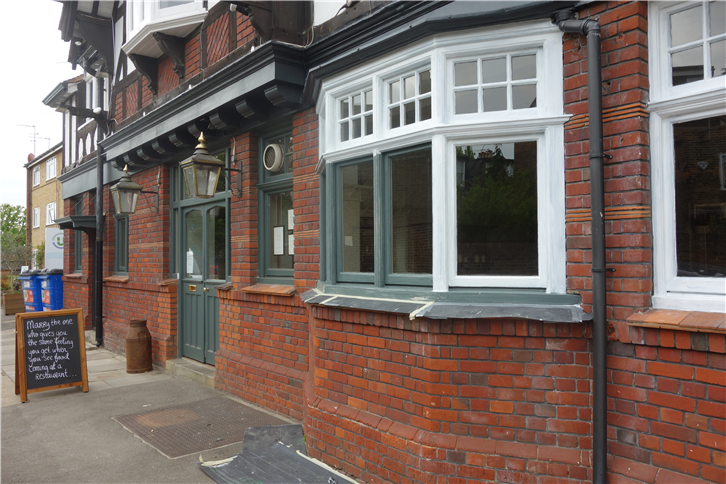 The oddly named Percy & Founders is on the site of what used to be The Middlesex Hospital, and indeed has a view from the dining room into the old hospital chapel, which was the only part of the site that has survived. This is a large, all-day restaurant, and has had some quite hostile recent reviews in the London food press (though the food did not seem the main focus of their criticism). My meal I ate here was just fine, with several perfectly pleasant dishes and no technical errors in the cooking which, with a chef who used to head the kitchens at Murano, was not surprising. The place seemed relaxed and welcoming to me. It is not going to set the world alight from a culinary perspective, but then that is not the idea. The only real issue for me was that food prices were a bit high, though as compensation for this the wine mark-ups were well below the London norm.
The Smokehouse in Islington now has a sibling in Chiswick (pictured), with the same emphasis on barbecued meat. I tried quite a number of dishes over two separate meals here, and the food is consistently good. I particularly liked the dishes, such as goat tacos with green salsa, that involved spices; the kitchen here seems to have a good grasp of the right level of spicing to lift a dish without overwhelming it. It would be a tricky place to bring a vegetarian, as most dishes are meat-based, but for carnivores it is just fine. I am sure it will do well.
Lyles in Shoreditch was very enjoyable, with tartare of Dexter beef a good start to the meal, and in particular a pair of excellent desserts. The restaurant seems to care more than most about the ingredients that it uses, and the airy dining room has a pleasant laid-back feel to it. This was a restaurant that it would be easy to return to. As a bonus, the wine list had quite modest mark-up levels, a fairly rare situation in London these days.
Modest mark-ups are not something that Scott's could ever be accused of. I had an acceptable meal, with good Dover Sole and a pleasant tuna tartare, but although the room is smart and the service smooth, the prices here are very high indeed even by the elevated standards of Mayfair, the most expensive square on the Monopoly board. The place was packed out on a Tuesday lunch so the restaurant owners (Caprice Holdings, who also run The Ivy, Rivington Grill, Caprice and Cote, amongst others) obviously know their market, but the value for money factor here was poor as far as I was concerned.