in Paris and London
Saturday, March 15th , 2014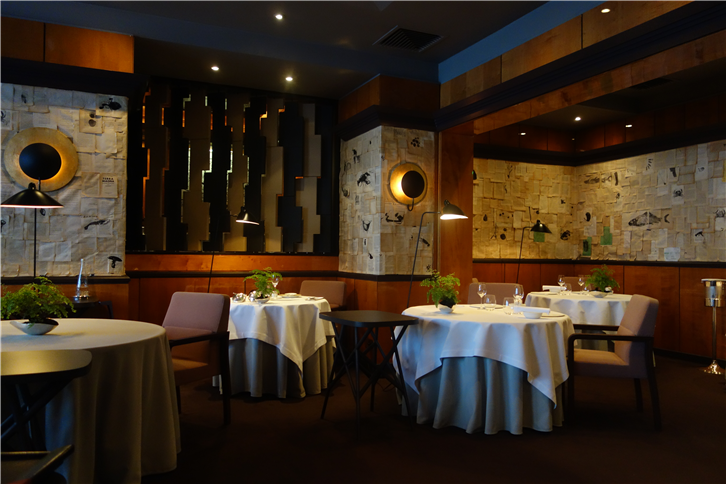 Having recently reviewed Madhus at The Sheraton, it seemed sensible to compare this with the other upmarket Indian restaurant in the Heathrow area. Mr Todiwala's Kitchen is at the Hilton at Terminal 5, and is decorated with some interesting artefacts, managing to avoid the "hotel dining room" feel. The cooking was erratic however, and although beef tikka was very good there were some mediocre dishes too, and in some cases downright poor ones. This was all the less excusable given the distinctly ambitious pricing.
Restaurants doing Deep South US cooking are quite rare in London, and over the years there have been some clunkers. Lockhart is not new but its chef is, and he clearly has some talent: anyone that can make grits palatable has my undying respect. Cornbread was my favourite dish, and although the food here is less life changing than some breathless reviews seem to indicate, it is certainly enjoyable and good value cooking.
Trishna has recently reopened after a refurbishment, although other than a change of lighting the dining room is not greatly different, though there is apparently a much larger kitchen now. The restaurant continues to produce very enjoyable seafood dishes, such an excellent dish of bream marinated with chilli and coriander, but I was particularly taken by a skilfully cooked bhindi. Not all dishes are to this standard, but it is certainly carefully made, though prices seem to have nudged up. Its sister Gymkhana has the full PR machine effect behind it, but I marginally prefer Trishna; the same chef oversees both kitchens.
I continue to be impressed by the inventive cooking at A. Wong, whose chef is really making an effort to reinvent many familiar Chinese dishes and take them to a new level. So many Chinese restaurants are formulaic, but here there are always pleasant surprises when you explore the menu. The lunch menu prices dim sum pieces individually, so you can try lots of different dishes at one sitting.
Hedone continues to produce superb food, with the switch to tasting menu only allowing the kitchen to put all its efforts into the carte blanche menu now that the choice is more limited. The result is a series of dishes even more precise and elegant than before, all based on the same top quality ingredients that the restaurant built its reputation on. From the near-perfect bread through to the stunning suckling pig and new citrus variations dessert, this is a restaurant that is, as the Americans say, in the zone.
Pierre Gagnaire (pictured) has a deserved global reputation for his inventive French cooking, and it was some years since I had visited his Paris flagship restaurant. The meal this time was even better than I recall, with several truly stunning dishes. The cooking here is complex and often involves unusual flavour combinations, but the difference between Gagnaire and so many less gifted young chefs is that his combinations actually work: the flavours are intriguing but are never anything but enjoyable. Service here was superb but the bill was scary, even by Paris standards.
In other news, The Michelin Main Cities of Europe guide came out. This covers Scandinavia and eastern Europe, though it was announced that from 2015 there will be a Scandinavia guide that will move beyond the current major cities coverage. This year there were two stars for Funky Gourmet in Athens, and stars in Copenhagen for Clou, Studio at The Standard and Marchal. In Helsinki Chef and Sommelier gained a star, as did Botrini in Athens, Borkonyha Winekitchen in Budapest, Ylajali and Fauna in Oslo, Bhoga in Gothenburg, and Oaxen Krog and Operakallaren in Stockholm.