A Sushi Gem
Saturday, August 03rd , 2019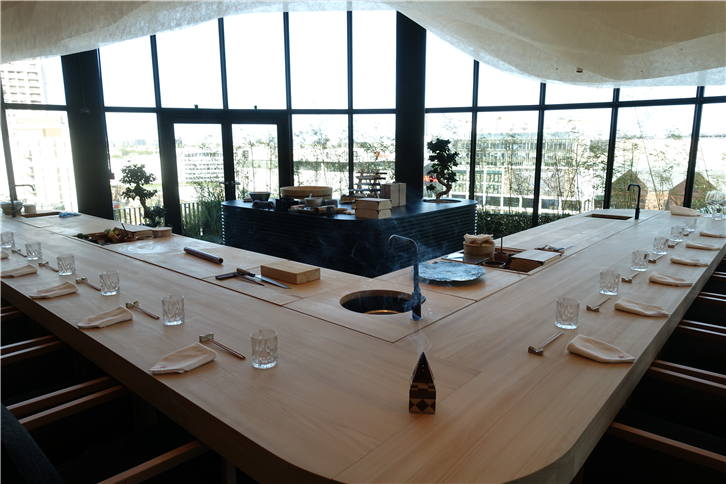 My Old Place is an informal Chinese restaurant in Spitalfields with several Sichuan dishes in addition to the Cantonese staples on the vast menu. It is a bustling place with an almost entirely Chinese client base, packed out on a Friday lunch. We enjoyed some good freshly make pork dumplings and nice gai lan, and the meal was only dragged down by a disappointing sliced pork dish. This meal was inexpensive and pleasant enough.
At a very different price point is the ambitious sushi restaurant Endo at the Rotunda (pictured), located in the old BBC Television centre building in White City. The extensive menu comes at a £180 price tag but really delivers, with every aspect of the meal showing great attention to detail, from the freshly grated wasabi to the excellent rice served at the correct temperature, through to the high quality seafood. This was a lovely experience, a jewel (albeit a pricy one) of a restaurant in a city where I generally eat Japanese food with considerable trepidation. With Mr Araki having returned to Japan, this is a timely addition to London's restaurant scene. It is already very difficult to get a booking at Endo despite the high price point.
The Square produced a genuinely excellent monkfish dish but also a merely pleasant scallop starter, and although the service was very charming the bill here is always hefty, so it was another case where I had slightly higher hopes given the impeccable pedigree of chef Clement Leroy and enthusiastic reports from some people that I know. Mr Leroy wasn't working at this service and perhaps the food can be better than this if he is, but on the basis of three meals now I have yet to experience a meal that is beyond one Michelin star level, which to be fair is exactly what Michelin give it at present.