Pierre Koffmann is back
Saturday, July 24th , 2010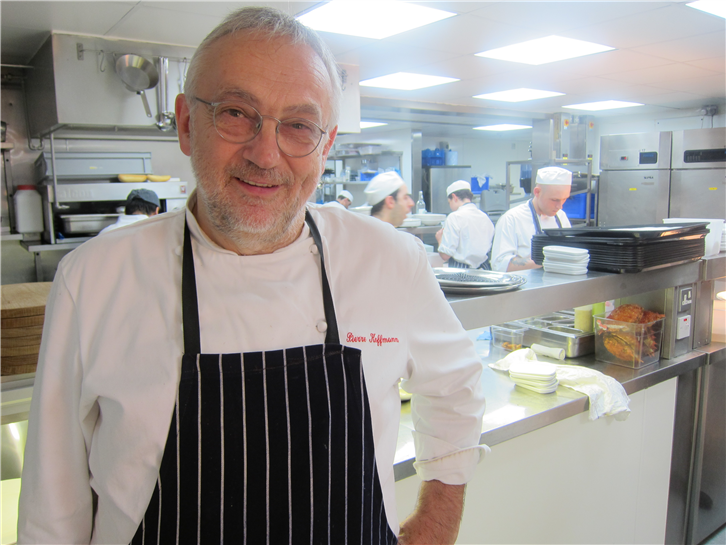 I enjoyed many happy meals over the years at La Tante Claire in the 1980s and 1990s, where Pierre Koffmann (pictured) ran what was without doubt one of the best restaurants ever to grace the UK culinary scene. At the tender age of 62 he has come out of retirement to cook once more, this time in a less formal bistro setting, Koffmann;'s. Although this was just days after opening the cooking is already delivering to a high standard, a pistachio soufflé in particular really standing out. There were a few minor flaws which will doubtless get ironed out, but already this is a place to be heartily recommended.
Dinings is a Japanese restaurant run by a chef who trained at Nobu, and the standard of the fish and shellfish appeared to be high. However, in my lunch there were minor flaws in two of the four dishes tried, which seemed an uncomfortably high proportion.
Cote is a mini-chain of brasseries that has now opened near me in Chiswick. Is backed by über-restaurateur Richard Caring (The Ivy, Caprice, Scott's, I could go on) and the original founders of the Strada chain (which was sold off by Mr Caring to private equity firm Blackstone for a cool £140 million in 2007). It is clearly in the Soho house mould, aiming for an approachable atmosphere and appealing bistro food. The kitchen still seemed to be settling in based on the meal this week. A perfectly pleasant dish of fishcakes and a nice crème caramel was offset by some chewy scallops, overcooked chicken and a tart that was far from cooked when served. Such trifling problems seem not to be affecting its fortunes one iota, the place turning tables and declining walk-in diners.
For family reasons I sometimes have to venture to Essex, where eating out is always a challenge (I used to live there, so feel entirely comfortable making such a generality). The Tower Inn is an example of just how grim the food in restaurants there can be, and all at a price that would not be far out of place in central London. If you count up The Good Food Guide entries for the county, Essex manages a lower number of entries per head than any county in England except Bedfordshire and Staffordshire, and having tried eating out in Staffordshire on occasion I can tell you that is not setting the bar real high.
Zafferano produced a very good salad and some excellent arrabiata pasta (with nicely intense tasting tomato sauce). Yet although the service was as silky smooth as ever, with perfect topping up, the place seems to me to be rather cruising along rather than really striving for excellence. An example is the bread, which some years ago was genuinely good but now is just so-so; even though it is made rather than bought, the bread at Locatelli, for example, is superior. The higher wine prices that came in with the ownership change a couple of years ago means that such relatively minor issues as the bread niggle more than they used to. I used to come here every month, but feel less inclined to do so now. It feels like a place in need of an injection of energy, though the cooking, I should emphasise, is generally still very much up to standard.