Some Interesting London Openings
Saturday, January 16th , 2016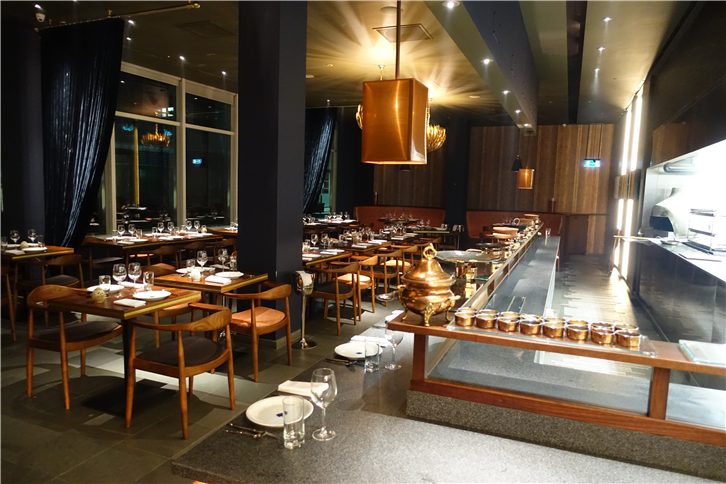 Koji is a smart Japanese restaurant in Parsons Green, though an estate agent would doubtless call it Fulham. It notionally specialises in sushi, though they didn't use real wasabi and the tuna was of ordinary quality (a scallop was reasonable). Better was a tempura of wild prawns, which had good flavour and was lightly fried. The problem here is the bill. With beer to drink I ran up a bill of £83 a head with no dessert. I freely admit that Japan has ruined me for eating sushi anywhere else, but this kind of money would buy you some serious food in Tokyo.
Sartoria rather languished for some years, but has just been re-launched with head chef Francesco Mazzei, who was head chef at Anima for many years. The room is smart and has that rarest of thing in a London dining room – comfortable chairs. More to the point, the food was good too, the best dish being an excellent saffron risotto with chicken livers. The only sting in the tail is the heavily marked-up wine list.
Darbaar (pictured) is a large new Indian restaurant in The City run by the former head chef of Cinnamon Kitchen. It has an open kitchen and is smartly decorated, with an interesting menu that goes beyond the high street staples. For example there is an Indian take on pizza with naan bread baked in a wood-fired oven ("nanza") as well as more familiar things like goat biryani. The cooking was impressive, with superb, rich butter chicken and exceptionally good bread. There were one or two minor things that could be improved but this was a very fine meal, and the best dishes were top of the range. It is in a tricky location and I hope it prospers – if you are around Liverpool Street then give it a try.
Just before New Year I also had another lovely meal at The Ritz. The food is consistently excellent, with a particularly gorgeous langoustine dish and fine venison. It is genuinely baffling to me that Michelin ignore The Ritz year after year, given that they for example gave a star recently to another London hotel The Goring, which with the best will in the world is not in the same league. Michelin can at times be a mystery wrapped in an enigma.