A trio of Paris 3 stars
Saturday, May 12th , 2007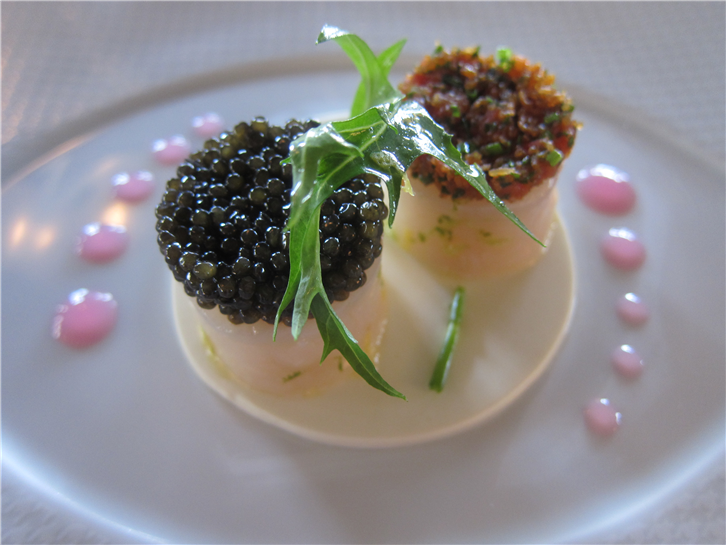 This was a week choc-full of food, if you will excuse the pun. The Square managed a more consistent performance than I have had there for a long time, a solid 8/10 level meal. As ever Zafferano was superb, with a lovely summer vegetable salad and superb gnocchi, while Haandi injected some spice into the week with its usual excellent chicken tikka and vegetable curries.
However this week was really about Paris. This really demonstrated for me how far ahead France is of the UK. Meals at Astrance, and particularly at Ledoyen and Meurice were all superior to anything being produced in the UK. Dishes such as the wild salmon and the pigeon at Meurice,the langoustines at Ledoyen and the simple dish of peas at Astrance were streets ahead of anything you can eat in Britain. The set of desserts at Ledoyen were by some margin better than the fine desserts at Waterside Inn or Gavroche. Yes Paris is expensive, but at its best the top French places are without peer.
This is not to say they are faultless. Pre Catalan produced a very mixed and at times downright poor meal, and I finds its recent elevation to three stars incomprehensible. What was supposed to be one of the best two Japanese places in Paris, Kinugawa, was barely 11/20 level, while a Vietnamese place recommended highly by a respected French food writer was simply dismal (8/20). At least London can feel confident in its breadth and depth of Asian cooking. However, let us not kid ourselves about where we stand relative to the French at the top of the tree.
Oh, and yes, I am aware that the laughable "World Top 50" Restaurant Magazine list does have several UK restaurants right up there near the top. Sadly they are utterly mistaken, as even a cursory sample of top French places as I experienced this week proves beyond any doubt. If you don't believe me, get on the Eurostar.