Dal Pescatore revisited
Monday, June 28th , 2010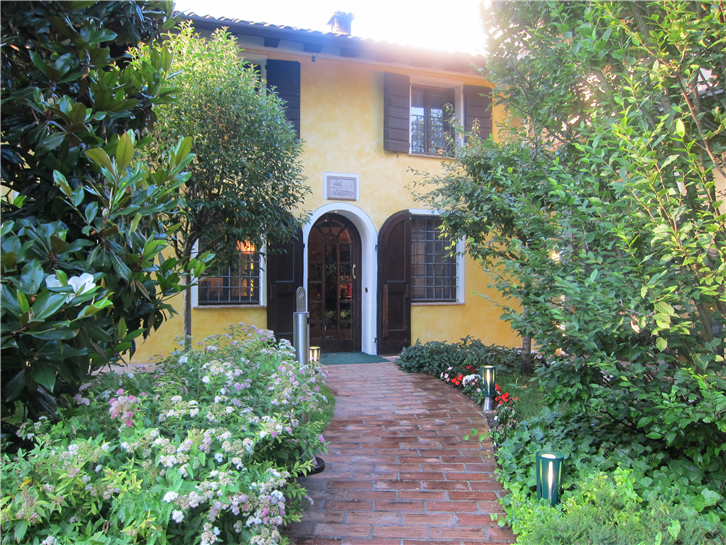 The Glasshouse in Kew is sister to The Square, Chez Bruce and La Trompette (also related in ownership to The Ledbury), and serves the same kind of capably made, appealing dishes that have made its slightly more distinguished sisters so successful. For some reason the Glasshouse has never been quite as popular as these, and indeed on this weekday evening there was a respectable trade rather than a full house. Daniel Mertl is the latest chef in charge, brought in a few months ago from La Trompette, and this background showed in a fine starter of tuna with Asian salad, a dish I ate many times at La Trompette when it was on the menu. Other dishes were generally very pleasant without setting the world alight, and I have left the score here at 5/10. There is little to dislike about the Glasshouse, but its Michelin star seems a touch on the kind side to me.
I went back to another old faithful this week in the shape of Ragam, a simple Keralan restaurant that is tucked away behind what was the site of the Middlesex hospital (this latter has now been razed to the ground as a redevelopment). The Ragam was always very fairly priced, and interspersed capable Keralan dishes with rather more ordinary curry house staples in a very basic setting. This formula has served it well enough and was still the case this week, with a decent utappham better than a disappointing chilli chicken dish; stick to the South Indian dishes here. The lack of hospital workers that used to frequent Ragam seems to have had limited impact on business, and they were still turning tables here.
Of altogether a higher standard was the food at my regular Haandi in Knightsbridge, whose Punjabi cooking is some of the very best to be found in London, at prices that seem peculiarly reasonable for a place within a diamond's throw of Harrods. Vegetable dishes are superb here, as is the pretty much anything from the tandoor.
I had a superb meal at three-star Michelin restaurant Dal Pescatore (pictured) seven years ago. It is in a pretty, rural setting, and for all the skill on show the atmosphere is more of eating with a friend's house than at a formal restaurant (admittedly in this case the friend is knocking out three star food from the kitchen). There were some real highlights, such as a dazzling risotto with beautifully young sweet peas of the quality we simply never encounter in the UK. There was also skill on show with a tender lobster in champagne jelly, but in general the cooking tries to respect the ingredients rather than to try to dazzle with fancy technical skills – no foams or chemicals are ever likely to emerge from this kitchen. Much as I enjoyed the meal this week, there was a slightly greater inconsistency than I recall from my previous meal, although other than the oddly ordinary bread this is a relative criticism only. I have no problem with its three star accolade, but I have nudged the score down a mark to reflect the fact that fewer dishes were truly out of the top drawer.
Dal Pescatore is not exactly near anywhere much, and there are no rooms at the restaurant. This time we stayed in the nearest village in a pleasant bed and breakfast called 9 Muse, run by a very nice couple. The rooms are spacious and scrupulously clean, but this is a B&B rather than hotel, as shown by the cheap shower (without even a shelf for soap) and an air conditioning unit that, like so many traffic signs in Italy, served merely a suggestion of its function. The box sat in the corner of our room, wheezing out air that was perhaps a fraction of a degree cooler than that of the rest of the room, though I suspect that some pretty exquisitely tuned measuring instruments would be needed to actual record the effect of its presence on the temperature of the room. I mention this because it gets quite hot in this part of the world, and so air conditioning is something that would be, well, useful. If this bothers you then you will need to stay further afield, though as we discovered it can be tough to find functioning air-conditioning in Italy even in smarter and much costlier places. As we moved on to our next stop we were able to visit the beautiful historic town of Bergamo, which has a walled mediaeval old town on a hill (pictured), and is well worth a stop if you are in the area.

More of my trip to Italy in the next blog, which will return to its usual Saturday slot ext weekend.