Sabras in Willesden is terrific
Saturday, October 21st , 2006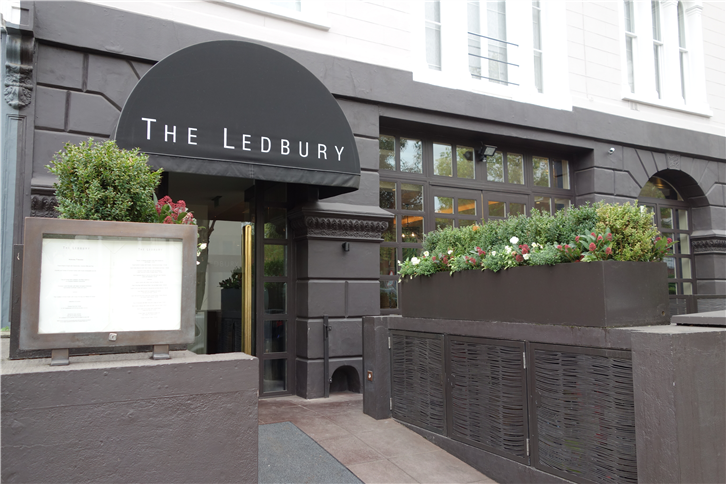 On the restaurant front this week I went back to the Ledbury, which is the Nigel Platts-Martin venture that is sister to the Square, Chez Bruce, La Trompette and Glasshouse. I went several times soon after it opened last year and was impressed with the standard of cooking (which gained it a Michelin star and 7/10 in the Good Food Guide). Its Westbourne Grove location has a cosy, neighbourhood feel to it, though on this occasion service was rather erratic (an inexperienced waitress topped water into my half full wine glass, which hasn't happened to me for years). The strength here, unusually for a London restaurant, is dessert. I had a superb chocolate parfait with praline ice cream, while my wife's chicory crème brulee was hard to fault and had a coffee ice cream with really intense coffee flavour. The earlier courses are generally reliable and pleasant rather than dazzling e.g. saddle of hare was correctly cooked with a red wine sauce, but the carrots with it were distinctly overcooked. Similarly a flame-grilled mackerel was not very hot, though it was nicely cooked. The breads are excellent e.g. a fine bacon and onion roll. The dining experience includes not one but two amuse bouche and a pre-dessert, though the latter had an unwelcome surprise attached: mascarpone was topped with a smear of olive juice. Maybe I'm old fashioned, but since when did a salt taste go with a sweet? All very El Bulli inspired no doubt, but it is a terrible idea. The wine list is excellent here, and the prices not too steep e.g. there is a full page of German wines such as the excellent Egon Muller Kabinett Riesling 1998 at £35. I wonder whether the chef is trying just a bit too hard now to do "Michelin" food, with his penchant for exotic taste combinations when the thing that made them successful in the first place was appealing, simple cooking. Still, it is easy to forgive minor flaws with desserts like these. For me this was a 16/20 meal though, and I felt Roussillon was at least as good.
The Sabras in Willesden is the best vegetarian Indian restaurant in London: no ifs, no buts. The Gujerati food here is cooked with real care and passion by owner Hermant Desai. The deluxe sev pooris here are remarkable: little crisp containers containing a delightful mix of ingredients flavoured with tamarind; if you pop this into your mouth in one go then there is a wonderful explosion of tastes on your tongue. I think this is one of the best Indian dishes I have ever eaten. Dosas are top class, with superb coconut chutney and sambar, while this is that rare thing: a restaurant that can cook bhindi without making it slimy. Desserts are also classy, with creamy shrikand my personal favourite. This place is wasted in Willesden, and struggles along in this desolate area. Please, please move premises to a nicer area Hermant!
A fascinating bit of news reached my ears this week. A campaign by the Good Food Guide to force councils to publish hygiene inspections of restaurants seems to have made progress, with a landmark ruling against Hammersmith and Fulham Council. It seems that from April 2007 all councils will have to publish their health inspections, though at this stage it is not clear whether this may be only "on request, with two weeks notice". However, Hammersmith and Fulham have capitulated and placed theirs on the internet. I have already linked the restaurants on this site within their area e.g. Agni, and you can click from the entry on my site directly to the health inspector's score and report. As more become available I will do link them up. This is a real victory for the consumer, and should encourage restaurants to raise there game: many of the reports are worryingly poor.