Joel Antunes opens a new restaurant
Saturday, December 03rd , 2011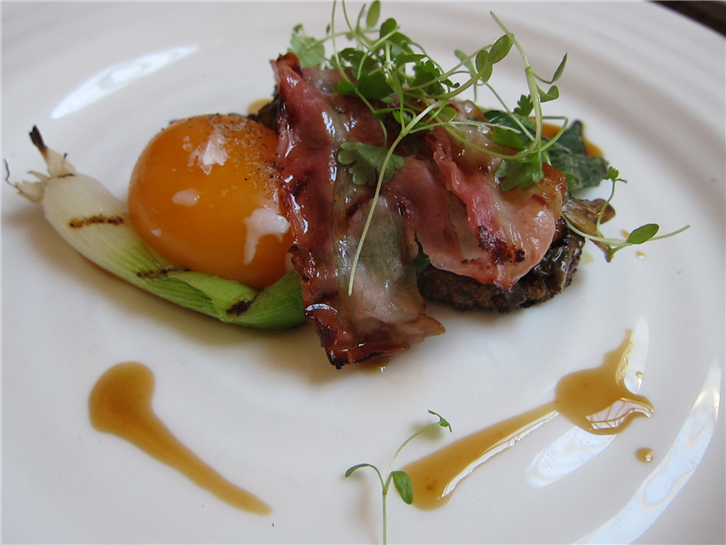 Joel Antunes' second London venue is a big improvement over his bistro at the Westminster Plaza Hotel. The format is still firmly in bistro territory but the food is much better, with several good dishes on our visit, such as excellent beef tartare and good tarte tatin. The main problem is the pricing, which is firmly of Mayfair proportions; the wine list was particularly aggressively priced (the average mark-up was 3.7 times retail price), so much so that we just had some cheap glasses of wine.

The Harwood Arms was on excellent form, and indeed an interesting contrast in terms of its value for money. Hare faggots were terrific, and the usual old favourites like venison Scotch egg and lemon beignets were lovely. I also enjoyed a duck egg salad (pictured). Service was charming, and the bill reasonable. The wine list at the Harwood has been revamped, with an average markup to the retail price of 2.7, far lower than that at Kitchen Joel Antunes. Of course The Harwood is a pub in Fulham and not a bistro in Mayfair, but last time I looked there was no price difference in bottles of wine being transported to Fulham compared to Mayfair (nor in staff costs, utility bills, etc - rent is only around 5% of the cost of a typical restaurant, so there is no excuse for gouging diners that enjoy wine based on the restaurant postcode).

Hedone continues to deliver high quality food. This week its 60 day aged beef was exquisitely tender, as was particularly good Shetland lamb. One bonus about going regularly here is that the menu changes weekly, and sometimes daily, so few dishes remain on the menu for long, and those that do evolve in terms of their garnishes and sauces. The chocolate bar dessert is now absolutely superb, and has significantly improved from its first version, for example.

Patara is a mini-chain of four London venues that deliver the best Thai food in London. I like the Beauchamp Place branch at the moment, and this week had a very enjoyable meal, with a lot of attention to detail in the dishes. Not only was presentation very attractive, but the large prawns in the pad Thai were very accurately cooked, and the sea bass in banana leaf had lovely taste from its marinade. For me this is the best Thai cooking in London by some margin; of course there are other places around that are much cheaper and which do good food, but Patara is a level higher.

I attended an event at Pissaro, the new restaurant from Jose Pissaro that complements his extremely popular but tiny tapas bar Jose. Pissaro is down the road from Jose, almost next to Zucca, and strictly speaking was not yet open when I visited, but it is in soft opening now and will doubtless prosper.

The Michelin Guide to the Netherlands emerged this week, with no change at the three star level and three elevations to two star. These were Chapeau! in Bloemendaal, De Kromme Watergang in Brekens, and Librije's little sister Zusje in Zwolle. One amusing note is that there are now more 2 star restaurants in the Netherlands than Belgium, something I would have given long odds against when I was travelling regularly to the Netherlands in the 1990s.

The Tokyo guide also came out, adding three new restaurants at the three star level. I was very pleased to see Ryugin elevated to three stars, a long overdue correction in my view. Also awarded three stars were Sushi Yoshitake and Koan in Shonan, which is actually a beach resort south-west of Tokyo. There are now 32 three star restaurants in Japan, well in advance of the 25 in France (and Monaco) in 2011. We shall see what happens with France in 2012 in due course, but it is most unlikely that France will catch Japan in terms of number of three star places. In the Tokyo area there are now 17 three star places, 57 two stars and 219 one star establishments. In passing, I see that Michelin is starting to sift through some of the over-promoted places e.g. Ristorante Aso is now down to one star (correct) and Reikasi is down from two stars to one (just one more to remove for that place for any Tokyo Michelin inspectors reading this).

The Hong Kong and Macau guide also emerged. On the positive side, the ludicrously overrated Sun Tung Lok was demoted from three stars (just two more to go), but there were promotions for Atelier de Joel Robuchon and an Italian restaurant catchily titled "8.5 Otto e Mezzo Mombana" (good luck with explaining that one to the ever-patient Hong Kong taxi drivers). There was some shuffling around at the one at two star level as well, and there are now 10 two star places in Hong Kong and three in Macau. At the one star level, there are 48 in Hong Kong and three in Macau. At least Yung Kee lost its entirely undeserved star.

The 2012 Guides are now towards the end of the new season, with the remaining ones being France (end February to March) and the Main Cities of Europe Guide, which usually comes out last, covering Scandinavia and Eastern Europe and emerging around the end of March.

The full list of 3 star places is here and the map of their locations is here.