A Pizza The Action
Saturday, March 04th , 2017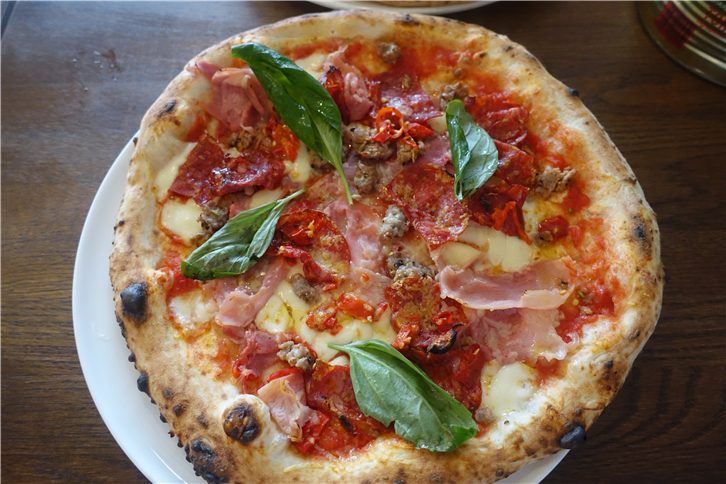 I thought it might be interesting to compare some of London's top rated pizza joints. Having recently had a disappointing experience at the much-hyped Da Michele in Stoke Newington, I tried l'Oro di Napoli in South Ealing and Santa Maria in Ealing, as a contrast to my regular Franco Manca in Chiswick (the first restaurant branch they opened after the initial Brixton market stall). It is fair to say that Santa Maria is generally top of most pizza aficionados' lists in London, along with its sister restaurants Sacro Cuore and Santa Maria Chelsea. The original branch in Ealing, along with Franco Manca in Brixton market, were the pioneers of Neapolitan pizza in London. Until these opened the denizens of the capital had to put up with chains like Pizza Express, itself a significant step up from the cardboard-like Pizza Hut offerings, never mind the pizza horrors perpetuated by lesser chains like Fire and Stone. A great service was done in educating Londoners that a pizza can (and arguably should) have a soft, chewy, pliable base, with properly rested hand-made dough using OO flour, cooked for less than 90 seconds in a wood-fired oven that ideally should be around 485C. Toppings should be of high quality, such as San Marzano tomatoes and top notch Mozzarella. All these stipulations and more are laid down in the 11 page specification for authentic Naples style pizza, as set out by the Naples-based Associazione Verace di Napoletana.
Franco Manca has of course now become an empire, with 19 branches and counting in London alone, and so inevitably some inconsistency can creep in, though I find my local branch generally still delivers the goods, with some variation from time to time. Santa Maria and its sisters are still a fairly small-scale operation, and can take the time to ensure that their product is consistent. Certainly the pizza I tried there this week was very good, and a clear step up from the one I ate at Antica Pizzeria da Michele a few days before. However the surprise package was l'Oro di Napoli, a relatively unheralded place in South Ealing that has been quietly plying its trade for two years, unencumbered by PR or social media shills. The pizza here was, to my taste, the best of the lot, and I will most certainly be back. They even take reservations.
After all that pizza I needed a curry, and returned to Jamavar in Mayfair. This was my third meal there and confirmed that it is serving the best Indian food in London at present. Dish after dish was excellent, from top-notch makhani dhal through very good biryani, venison samosas with cauliflower pickle and above all superb stone bass tikka. Service is slick and the room is nicely decorated, so this seems to be to have the complete package. None of the Michelin-starred Indian places in London are in its league, as far as I am concerned.
Next week I will be firmly back in fine dining territory as I venture abroad for some three star Michelin action.