The Thai Bistro is replaced by Budsara
Saturday, June 16th , 2007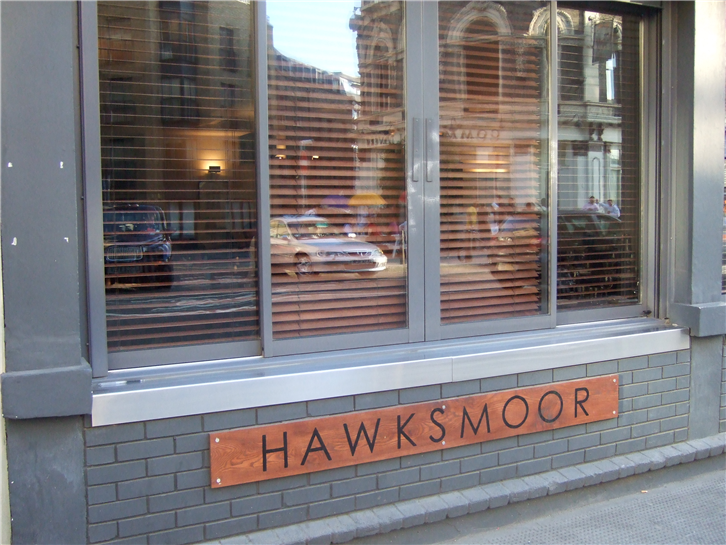 Chiswick has plenty of eateries, though I feel that many of these are overrated; with the exception of the excellent Trompette and the High Road Brasserie, and perhaps Sam's Brasserie, the other places that themselves seriously (Vacherin, Vino Rossi etc) are mediocre to downright poor. However there was always a reliable meal to be had at the Thai Bistro, so I was quite nervous when this closed its doors a few weeks ago. Fortunately it is reborn as Budsara, another Thai restaurant, and I don't have to hunt further afield for local Thai food. Gone are the canteen style benches and instead there is tasteful decor and conventional tables. The menu is simplified but the Thai classics remain, and one of the chefs from the old days was rehired, so the cooking has not changed greatly.
Hawksmoor is another restaurant to open in what is now trendy Shoreditch. This used to be a godforsaken area where even the Alsatians went around in pairs, but now although it could still in parts be a set for the scarier parts of Bonfire of the Vanities, it also has smart bars and organic coffee shops amongst the betting shops and abandoned cars. Hawksmoor delivers very good steaks and quite good chips, and even managed a good crumble for dessert. It does not over-reach itself and the quality of the meat (from butcher The Ginger Pig) is very high. There is also that rarity in London, a fairly price wine list; if you are in the mood for a steak this is well worth the trek.
Deya has long been one of my favourite Indian restaurants, with an ex Zaika team cooking sophisticated modern Indian food in a smart setting. I continue to be bemused at how Michelin singles out Tamarind and Benares for star treatment and yet neglects this, given that the food at Deya is much better and the price much lower. A superb uttapam tonight was as good as any we had in South Indian earlier this year, and technique here can hardly be faulted e.g. with a beautifully cooked single fried prawn (part of a starter dish). This is a fine restaurant that deserves more attention than it gets.
Regular readers will be aware that any excursion off the safety of the tube network to eat brings me out in a cold sweat (unless it is to somewhere like Bray) but occasionally I have some commitment and need to eat in the wilderness. On this occasion it was at the smart-looking Bosworth Hall hotel in Warwickshire, which managed to have no mobile phone reception, just to set the scene. When I asked about internet access the receptionist looked at me as if I had asked to go to the moon. The food was crushingly awful. With mass-catered dinners like this I try the same approach that apparently is a strategy with prison food: claim you are vegetarian and then at least there is a chance the dish will be made fresh (this approach works on British Airways; you often get a half decent vegetarian curry rather than the usual choice of grey lamb or grey chicken otherwise on offer). This approach misfired here. After a "salad" of chewy mozzarella with a tasteless slice of cheap tomato a risotto appeared with roughly the consistency, and certainly the appearance, of wallpaper paste. I honestly have no idea how you would make a dish so bad if you were trying e.g. cooking for your worst enemy. This was followed by the nastiest, cheapest, most utterly synthetic bought-in catering cheesecake that I ever wish to taste a small spoonful of. At least this had no taste whatsoever, as if any attempt at flavour had been chemically removed. When people deride British food I leap to its defence these days, but meals like this remind me why, outside London, it has its dismal reputation.