A Visit to Eugenie Les Bains
Saturday, September 30th , 2017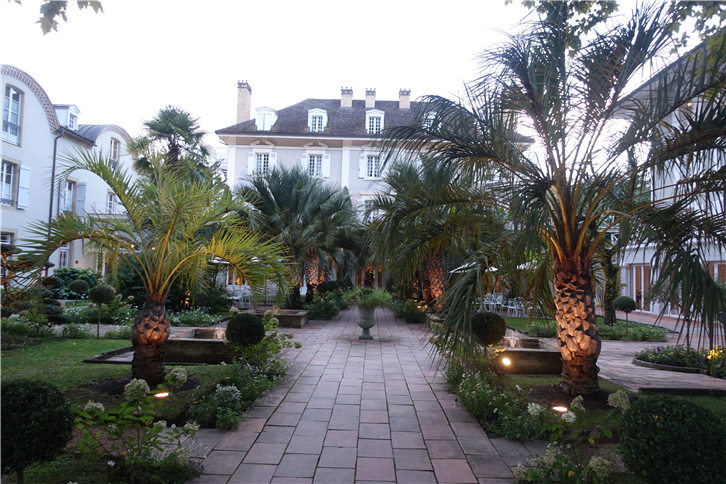 I wanted somewhere nice to go to celebrate our 25th wedding anniversary, and couldn't think of anywhere better than Pres des Eugenie. This property, tucked away in the south west corner of France, houses the gourmet restaurant of Michel Guerard, who has held three stars here for forty years. Remarkably sprightly looking, he is still at every service, and still coming up with new dishes at the age of 84.
The cooking style here is deceptively simple, never putting more elements on the plate than are needed, and making maximum use of the beautiful local ingredients of the Landes region, such as the terrific guinea fowl and chicken here. Culinary technique is exemplary, with particularly impressive sauces that appear not as drops of smears but as rich, glistening pools. These are very manually intensive to make, but when they are done at the level achieved here they are truly a thing of beauty. The pastry here is the best I have eaten – Mr Guerard started out as a pastry chef, and has trained his team well.
We had two dinners here, with many highlights. A gloriously rich "morel pillow" dish had one of those rich, creamy sauces that we rarely see in the UK these days, and a cheese straw nibble that preceded it was one of the most delicate pastry I have ever eaten. Lobster served in its shell with a dazzling onion sauce was another star dish, and desserts were no slouch either. A soft cake with melted rhubarb ice cream was a joy, as was a dazzling millefeuille of chocolate with coffee cream. This is top of the range French cooking at its finest.
A real bonus when you stay here is the sister restaurant Ferme au Grives. This is in an old barn on the property, and serves much more rustic cuisine at an almost absurdly low price. It may be much simpler cooking than in the fine dining restaurant, but the chefs here are still very talented, and the same fabulous produce is available to them, but just using less luxurious ingredients. No truffles or langoustines appear here, but a simple local chicken roast over a spit is still lovely, and the cep gratin side dish that we tried had remarkable flavour. Desserts are very serious too, with a waffle with red fruit compote something that could hold its own at any three star establishment. Apparently they have deliberately discouraged Michelin from reviewing, and use cheap crockery and provide only a basic wine list. However in reality the food here would trounce plenty of multi-starred restaurants. Gougeres and saucisson, three further courses, side dishes and lovely bread now run to all of €52.