Going Dutch in Amsterdam
Saturday, May 02nd , 2015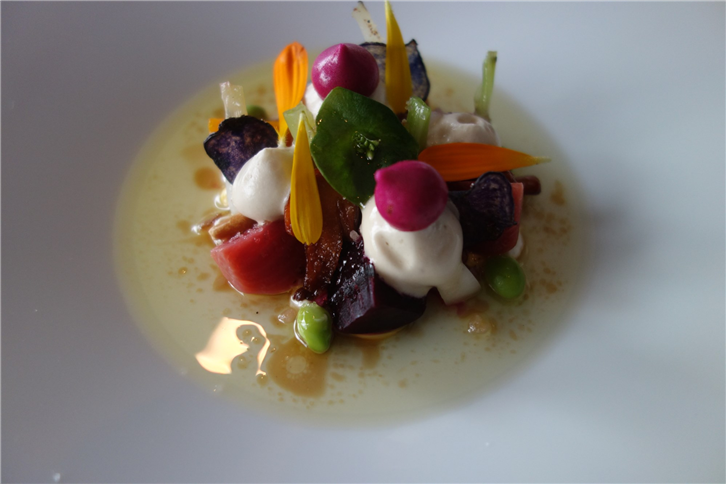 Ciel Bleu is on the top floor of the Okura hotel in Amsterdam, and has had two Michelin stars since 2008. It has a panoramic view over the city and has a particularly good sommelier amongst its well-drilled front of house staff. I particularly enjoyed a langoustine dish and a little cornet of king crab in amongst the tasting menu that I tried. Not everything worked to the same level, and at times it seemed as if the kitchen was too keen to show off its grasp of culinary technique, but the overall experience was very enjoyable.
Librije's Zusje is a much more recent recipient of two stars, getting them within its first year of operation. This is another hotel restaurant, this one within the Waldorf Astoria in one of the smartest addresses in Amsterdam. The presentation of dishes was particularly attractive, with a very enjoyable sequence of nibbles at the start of the meal, but it was rather erratic. There was one ill-judged savoury course, and the kitchen has fallen prey to the trend for serving desserts that are anything but sweet – avocado and cucumber are surely not things that any normal person wants to see in their dessert. Service was excellent and the dishes that didn't work were all the more frustrating given the many courses that showed real skill.
Yamazato was the first Japanese restaurant in the Netherlands to gain a Michelin star (its sister teppanyaki place got one this year too). There is a pretty view over an attractive garden, and the food was very good throughout the meal. Ingredient quality was high e.g. some excellent sea bream imported from Japan, and the staff were charming. It was all the more impressive given the considerable scale of the place, and I could see why it was packed even on a Sunday evening.
The surprise of the trip for me was Chapeau, a restaurant some way west of Amsterdam near the coast that gained a second Michelin star in 2012 under its new chef. This is a restaurant that has hardly any reviews in English on the internet, and its chef keeps a very low media profile, so I did not have particularly high expectations of it. In fact it was the best meal of the trip by some margin, the dishes not only looking beautiful (a spring vegetable dish is pictured) but featuring very high-grade ingredients and considerable technical skill. Dish after dish was of three star standard, and although many of Michelin's decision are double Dutch to me these days it seems to me that this place deserves a third star considerably more than some other places that have been promoted in recent years.