A Week in Bangalore
Saturday, December 14th , 2019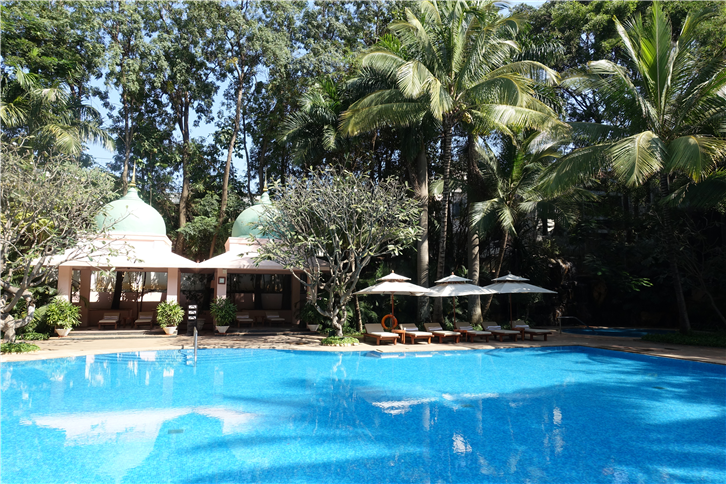 This week I returned to Bangalore. This was a vacation rather than primarily a food visit. I enjoy India as a vacation destination, and this was my 23rd visit to that country. Given its predictable wet and dry seasons, in the winter you can be assured of sunshine, and Bangalore has the advantage of a milder climate than most. This week it was a steady 26-27C each day, whereas at this time of year Goa, for example, is usually a much sultrier 33C. Bangalore was once called the "garden city" of India, and although much of its greenery has been lost to development, there are still some nice parks. The home of India's IT industry, it is visibly more prosperous than much of the country, and in some areas you could easily think you are in Silicon valley, all smart offices and manicured lawns. We stayed at the excellent Leela Palace (pictured).
Karavalli is a restaurant serving only the food of the southern states of India. I had an excellent sorpotel, a rich Goan pork curry, as well as very good pomfret served in a banana leaf. The paratha that we tried was one of the best I have eaten anywhere.
Le Cirque Signature is an Italian restaurant that was recently ranked 29th best in India on the Conde Nast Traveller list. The food is quite ambitious and an excellent truffle risotto showed the skill in the kitchen. There were some limitation e.g. the use of imported frozen scallops seems pointless to me; better to adapt to the local ingredients, as Luca Fantin has done to such good effect in Tokyo.
We dined several times at Jamavar, the flagship Indian restaurant of the Leela Hotel. There were several fine dishes, including excellent Kashmiri morels and classy chicken biryani, as well as superb romali roti. Classics such as murgh malai and makhanai dhal were very well made, and the overall standard across several meals was high.