London Fine Dining
Saturday, August 11th , 2018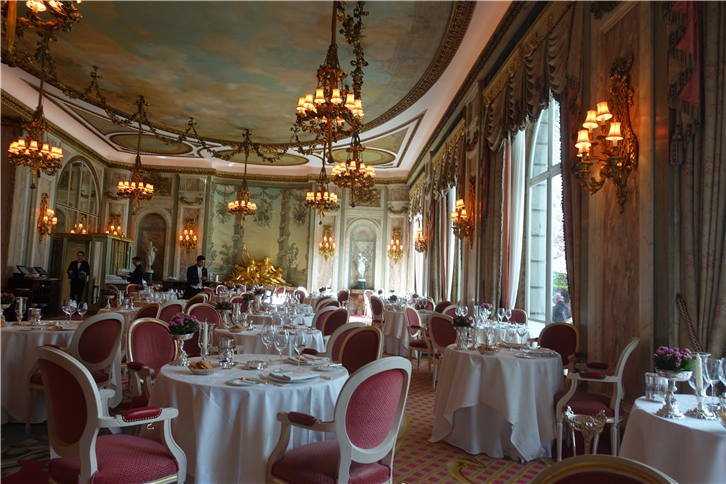 The Fish House is an above average fish and chip shop in Notting Hill, its produce carefully sourced and capably made. London has a dearth of decent fish and chip shops, for reasons that I have never really understood. Instead you have to journey to places like The Quayside in Whitby or Scran and Scallie in Edinburgh to find really good fish and chips. While not quite in that league, the Fish House does a pretty competent job, and deserves its plaice in a very short list of good fish and chip places in the capital.
I haven't been back to Gordon Ramsay's flagship restaurant at Royal Hospital Road for some time. Now in charge of the kitchen is Matt Abe, and he seems to be maintaining the standards admirably. This meal contained some star dishes, such as a silky pressed foie gras with cherries and almonds that was really gorgeous. Service is good here, and the menu is appealing, with Matt gradually putting his own particular stamp on the menu. Gordon Ramsay's TV antics have meant that this restaurant has become quite unfashionable these days, but the food here is still excellent.
Core is where the previous head chef at Gordon Ramsay moved to. Clare Smyth is a terrific chef technically, and we had some extremely good dishes at our meal, including a dish of sweetbread and langoustine with two different sauces, and a lovely spelt risotto with summer vegetables. Clare is keen to showcase vegetables, as with her "lamb carrot" dish, and I just wish she would source better ones rather than restricting herself to UK produce; a stuffed tomato dish at the meal had very limited flavour, especially when I compare it to the tomatoes I had a few days earlier in Italy. Still, this caveat aside, Core is a fine restaurant and deserves its evident success.
The Ritz (pictured) delivered another top class meal, highlights including some spectacularly large Scottish langoustines, alive and kicking just before service. There was also a lovely duck liver terrine and some excellent vegetarian alternatives, such as celeriac parfait and stuffed courgette flower. The room is grand and the service slick, and the only drawback to dining there is the rapacious wine list. It is daft that food of this quality gets just a single Michelin star, and that one star being handed out grudgingly after years of Michelin ignoring The Ritz.
I also revisited Jamavar, which has had a head chef change since my last meal there. All is well, the signature stone bass tikka still superb. We had two different tasting menus that featured some impressive cooking, such as stunning adraki lamb chop and excellent aloo tikki. This restaurant and Indian Accent have brought the level of Indian food in London to a higher level.
The blog next week will be a little later than usual due to some travel.