Colonising Mayfair
Saturday, November 15th , 2014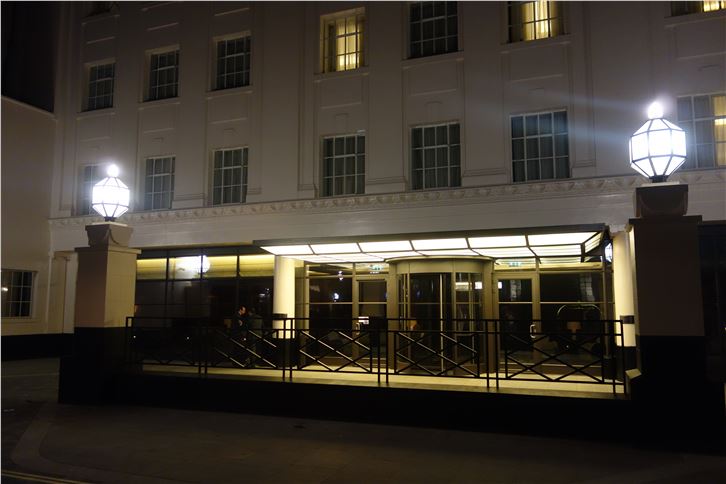 The Colony Grill Room is the restaurant of the Beaumont Hotel, the latest venture from prolific restaurateurs Corbin and King. As ever with their establishments, the dining room design is lovely and the service very attentive. The menu is lengthy and appealing and the cooking capable; even the wine list is priced at a level that is much lower than is normal in London, let alone in Mayfair. However, also as ever with this restaurant group, the bill feels quite high for the level of food that is delivered.
The Andover Arms is a pub in a quiet street in what these days is optimistically termed Brackenbury Village (between Hammersmith and Shepherds Bush) that has a particularly loyal following. The cooking is not ambitious but the dishes that I tried were well made, and the prices reasonable. The particularly engaging manageress, who seemed to know every customer by name, is doubtless a key to the evident popularity of the place.
HKK is the flagship restaurant of the Hakkasan group. At dinner a tasting menu only format is followed, but at lunch there is a wide selection of menu options, including à la carte. The dim sum here features particularly delicate dumplings, and in general the ingredients used are of a much higher standard than is normal to encounter in Chinese restaurants in London. Even staple dishes like Singapore noodles are taken to a higher level here, in this case having superbly light texture. The silky smooth service is the product of the intensive staff training that the Hakkasan group invest in.
L'Amorosa is the new venture of Andy Needham, former long-time head chef of Zafferano. In this neighbourhood setting his food is a little less fancy then when he was cooking at Belgravia, but he has lost none of his sure touch with pasta. A risotto of girolles was particularly excellent at this visit. The flavours here are robust and the overall experience represents extremely good value.
The Chicago Michelin guide for 2015 appeared. Grace was promoted to three stars after its entry last year at two stars, giving Chicago its second restaurant at the ultimate Michelin level after Alinea. Grace's chef is Curtis Duffy, and I can only hope his cooking has improved since the meal he prepared for me at the now defunct Avenues. L20 is sadly closing so is delisted, but 42 Grams was promoted, leaving three two star restaurants. There are 19 one star places in Chicago now, with two deletions this year.