Visiting Bologna
Saturday, June 22nd , 2019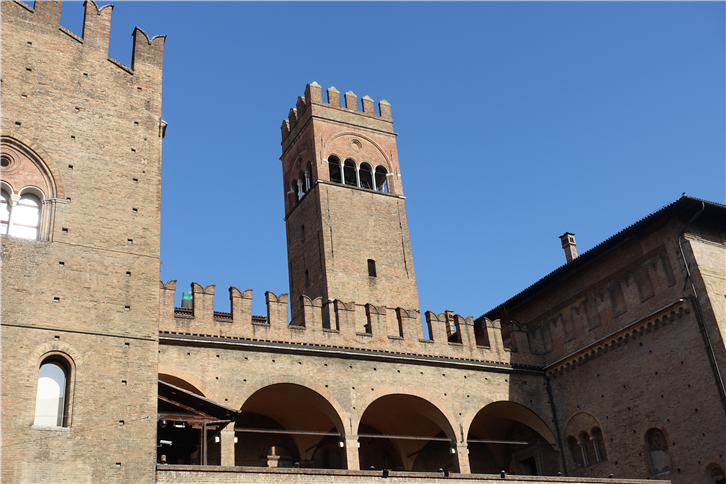 Bologna (pictured) is the seventh largest city in Italy, an attractive place with a precarious leaning tower that makes the one at Pisa look stable, a fine cathedral and old town streets covered with a network of 40 km of arched porticos to protect you from the blazing sun or occasional rain shower. The university, founded in 1088, is the oldest in Europe, and the surrounding Emilia Romagna region is arguably the foodie heart of Italy, known for its Parmesan cheese, Parma ham, balsamic vinegar and much more. Unlike Venice and Florence, it has yet to be deluged with hordes of tourists. The city has just two Michelin starred restaurants but a host of places to eat.
Marconi is near Bologna and offers a modern take on Italian cooking, but one that was remarkably erratic. Spaghetti with fennel and aubergine was excellent, as was the home-made bread, but my starter of queen scallops was a disaster, as was the pre-dessert and the sorbet. The one compensation was some seriously mis-priced Clos Rougeard wine, with which I drowned my sorrows at a bargain price.
I Portici is the only starred restaurant in the city itself and was very smart, in a modern hotel. The meal was a mixed affair. There were some genuinely classy dishes, especially a gorgeous pasta dish with five different Italian tomatoes. To counter this there was a stone cold fish dish, while the dessert simply never appeared. There is clearly some ability in the kitchen, but they need to sort out the consistency issues, and improve the erratic front of house experience.
In many ways the most enjoyable meal in the city was at All'Osteria Bottega, a cramped little restaurant in a side street that proudly lists the various local hams and cheeses on its menu. There is no fish or seafood served here, but there is no lack of choice of meat dishes, and the pasta was excellent. It was a charming, welcoming place that was completely packed with locals, and was a lovely experience.
We also had a pleasant pizza at Verace, and an enjoyable light lunch at Trattoria da Me, but the destination dining point of the trip was the newest three star Michelin restaurant in Italy, Uliassi. This is in the seaside town of Senigallia, a two hour drive from Bologna. This has a great location directly overlooking the beach, and is primarily a seafood restaurant. There were some very enjoyable dishes here and the service most welcoming. However they also overcooked a couple of the fish dishes, which was rather disconcerting in a specialist seafood restaurant, and not what you expect in a three star restaurant anywhere. It was a very enjoyable meal, but three stars seems a bit generous based on this meal.