A busy week includes the new Cinnamon Kitchen and Hawksmoor Seven Dials
Saturday, January 15th , 2011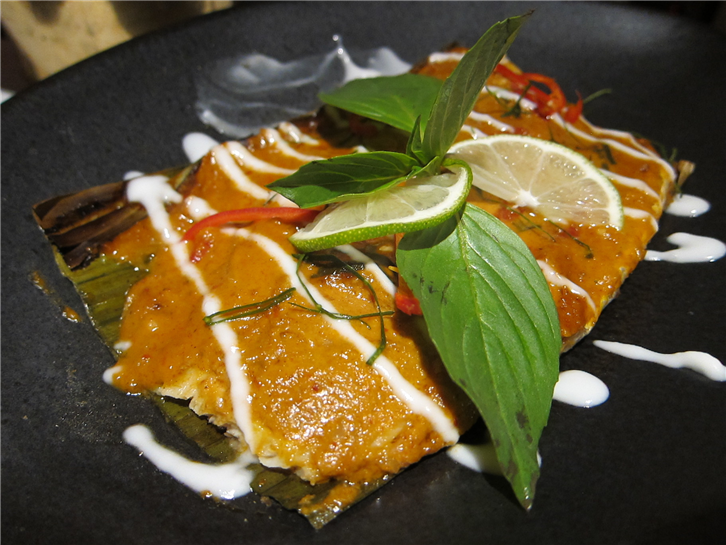 Cinnamon Kitchen is the sister of the very successful Cinnamon Club, and indeed resembles its sibling in many ways. In this case the City location is in a new pedestrianized development so does not have the history of the Cinnamon Club venue, but the cooking has the same features: good ingredients (especially the meat), nice presentation and modern flourishes. The service, under a manager who used to work at (three star) Nico at 90 back in the day, was smoother than my experiences at Cinnamon Club, and the cooking was a touch better too. For posh Indian in the City, this would be the place to go.
Another younger sister restaurant is Hawksmoor Seven Dials. It is a lot roomier than its older sibling in Commercial Street, but the formula is just the same: high quality steak, triple cooked chips and a few other items to fill out the menu. The meat is indeed very good here, though Goodman has the edge.

Patara delivers the best Thai food to be found in London, and the Beauchamp place branch was on good form this week. I really like the sea bass served in a banana leaf (pictured) that they serve here, while other classic dishes such as tom yum goong are also very well made. This is the best Thai food in London in my experience.

Old favourite Zafferano has now finished the white truffle season, but produced an enjoyable dish of roast chicken with black truffles this week. Pasta was excellent as ever, with tagliatelle of wild mushrooms, while a nibble of bruschetta was also scented with truffles. What's not to like?
Caravan seemed rather off the boil this week. I had an excellent meal here last summer, but this time the meal was a much more erratic affair. Given that we ate over half a dozen different dishes it was not just about one bad dish spoiling the meal, and indeed overall it was still a decent experience, but a distinct drop in standard from my previous one. I have docked a point off the web site score to reflect this.

I have long been a fan of Tangawizi in Richmond, in particular due to the skill of their tandoori cooking. Their naans are the best in London, while dishes such as very tender tandoori prawns this week demonstrated the skill in the kitchen. The makhani dhal here is also a classy dish, and the only real problem I have here is that I end up eating too much.

La Trompette continues to deliver consistent, enjoyable food, though with a new chef Anthony Boyd, who was the head chef at the Glasshouse for many years (including gaining it a Michelin star). The lunch I had this week did not show any significant change in either menu direction or standard based on the couple of dishes that I tried.

It appears that the superb pizza of Franco Manca may appear later this year in East London, expanding from the current venues of Brixton market and Chiswick.

This blog will have a short break, skip a week and resume on the 29th January. By this time the UK Michelin Guide will be published (it is due out on the 18th). I am not making any predictions as to what changes there might be: as Niels Bohr said: "Prediction is very difficult, especially about the future."