Various Italian Restaurants of London
Saturday, August 24th , 2013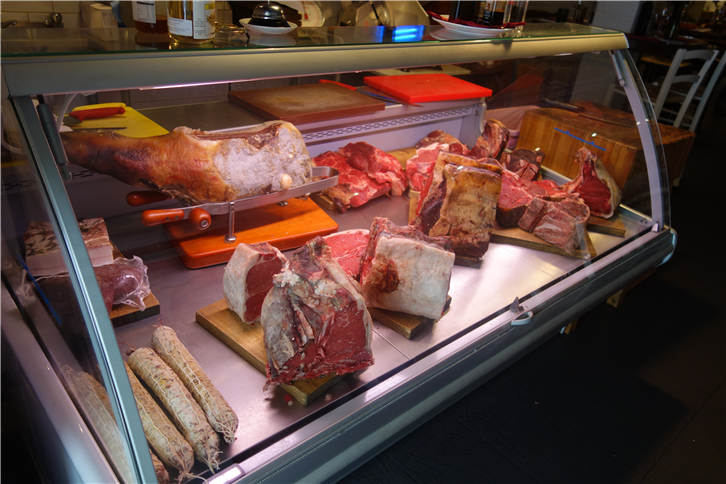 Acciuga has taken over from what was previously Timo. Bizarrely, the chef was actually doing the front-of-house management on the evening that I visited, and not doing it at all well. The meal was patchy, the price far from a bargain, and the service was comically bad, some of the worst I can remember in some time. There was one quite good pasta dish in amongst things and indeed the food was reasonably competent, but as an overall experience it was pretty shambolic. This is also a reminder to chefs and owners that there is little point in putting effort into the cooking if the service operation is ineffective.
Fabrizio was an altogether more enjoyable experience than Acciuga; this is a simple neighbourhood restaurant in Highgate, with friendly staff and decent cooking, all at a quite low price point. Although this was not objectively dazzling food, it was at least good value, and the overall experience was very pleasant. It was full of local regulars, all appearing to have a good time.
Sapori Sardi was a rather mixed affair, with a good risotto but a disappointing fish stew and a tiramisu that had essentially no coffee flavour. This restaurant was ranked, at the time I visited, the 12th best restaurant in London on Tripadvisor out of over 12,000 restaurants listed, which probably says all that needs to be said about the usefulness of Tripadvisor when selecting restaurants.
The best experience of the week was at Maxela, a cross between a butcher shop (pictured) and a restaurant in South Kensington. This is an outpost of a mini-chain from Italy, and showcases in particular Fassone beef. This Piedmontese beef is top quality, and as a bonus is unusually healthy, with low cholesterol and calories compared to normal beef due to a genetic aberration for which these beef are deliberately bred. The rib eye steak here was terrific, and I also tried a nice pasta dish and reasonable dessert. Ironically this restaurant, despite its South Kensington location, was the cheapest of the four places. Its beef is a real bargain, especially when you compare it with some of the excessively priced steaks that can be found in central London venues. I hope that Maxela prospers.
I was interviewed in a short video for Elite Traveler magazine about The Ledbury.
On the new web site there is a contact form and also a feedback box. I have had a few bits of feedback with no email address provided but which are posing a question to me. Clearly without an email address I cannot reply, so if you want a reply then please remember to leave me an email address.