Singapore - Garden City
Saturday, February 24th , 2018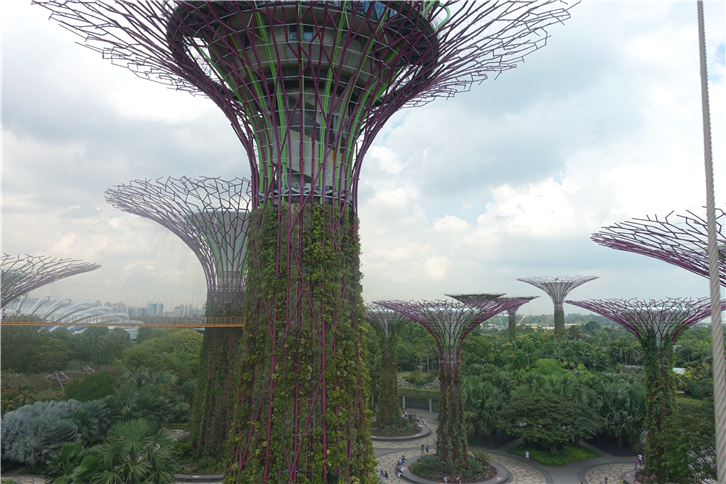 The final leg of our world tour was stopping off in Singapore for a few days before flying back to London. Singapore is a bustling, modern city that is unusually well organised in all sorts of ways, and is a very easy place to visit. If you do go there then there are a couple of unusual places to visit. One is the Gardens by The Bay complex, a very large area near Marina Bay Sands with several themed gardens and two huge biodomes, including the world's largest greenhouse. These house a huge array of plants and trees from around the world, from ferns to baobab trees. There are also several artificial "supertrees" (pictured) that capture rainwater and have solar panels that help run the park sustainably. Another unusual activity in Singapore is the Night Zoo, where you can walk around the zoo in the evening, when most animals are more active than during the day.
On the dining front, I tried Joel Robuchon, the sole three star restaurant in the city. Tucked away in the basement of a casino resort hotel, the meal was expensive but actually very good, utilising high quality luxury ingredients and showing considerable skill. As well as more classical dishes, I was impressed by an artichoke amuse bouche, and wild mushroom cannelloni with the beef course.
The surprise package was Les Amis, a long established restaurant whose chef Sebastien Lepinoy has been heading up the kitchen for five years. A long time associate of Joel Robuchon dating back to the early days of Jamin in Paris, he is a classical chef by training and is unashamedly following this path here. There were several impressive dishes, and then the meal went into overdrive with three of the best desserts I have eaten for years. Although Michelin rate this as just two star level, this was a most impressive meal.
While in the city I also tried the flagship restaurant of Violet Oon, a cookbook writer and local celebrity chef, serving Nyonya cuisine, a fusion of Malay and Chinese cuisine with colonial culinary influences. Song of India is one of the very few Michelin starred Indian restaurants outside India, and shouldn't have that star: not by a long, long way. Shisen Hanten is a Chinese restaurant run by a Japanese chef, notionally serving Sichuan food, though the menu seemed mostly Cantonese to me. This was very pleasant, though Michelin's two star assessment of it is puzzling.