City Dining
Saturday, April 12th , 2014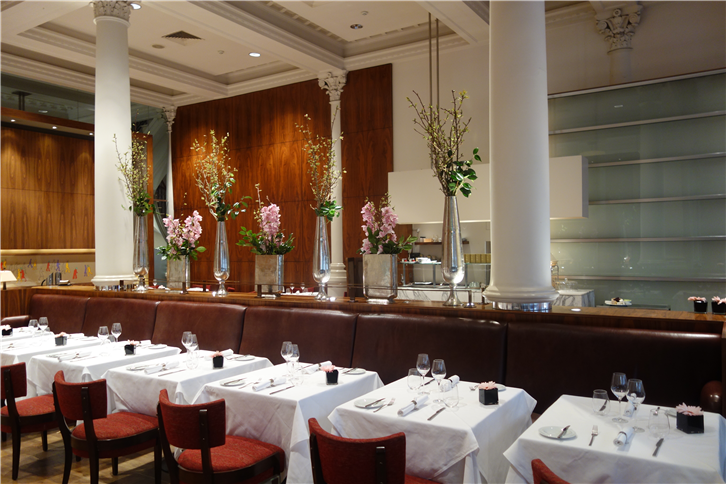 I had another good meal at Sixty One, a restaurant at the boutique Mercer hotel that appears to be flying well under the media radar. Excellent dishes of quail and sea bream, combined with two high quality desserts, confirmed that this is a restaurant well worth trying. Service, as before, was also charming. I find it curious when half of London seems to be queuing up to get into a few high profile restaurant openings, there are high quality places like this that appear invisible to social media.
1212 is another hotel restaurant, its name based on the old phone number of Scotland Yard ("Whitehall 1212"), which used to be based in this historic building. Sadly the food was less than historic, with several dishes that sounded appealing but had remarkably flavour-free ingredients, technical problems, or both. There was a nice rabbit dish, but there were far too many issues to be able to really recommend this place, which is a pity given the lack of decent restaurants in the area.
Lutyens continues to prosper in the culinary tundra of Blackfriars, with its appealing menu, capable cooking and particularly well-drilled service. Tender short-rib of beef and seasonal rhubarb dessert were the highlights of a very pleasant lunch. This is a particularly welcome retreat in an area so lacking in decent places to eat.
Bonds has a very grand dining room in the City, all cavernous space and spectacular flower displays. There is a moderately priced lunch menu, and the dishes from this were very capable, especially an excellent mango brulee for dessert. This part of London is not exactly awash with high quality dining destinations, but Bonds pays off.
Next week's reviews will reflect my continuing journeys to catch up with the new Michelin three star restaurants. I have already visited Kichisen and also Reale but as well as two new three stars I have not reviewed in Hong Kong and Macau (Eight and Sushi Shikon) there are several in Europe to get to: DiverXO in Madrid, De Leest in the Netherlands, Assiette Champenoise in France and Uberfahrt near Munich. Stay tuned in the coming weeks as I try to complete this little quest.
I did an interview for the magazine Hotel Insider, which can be seen here.