York & Albany opens
Saturday, August 07th , 2010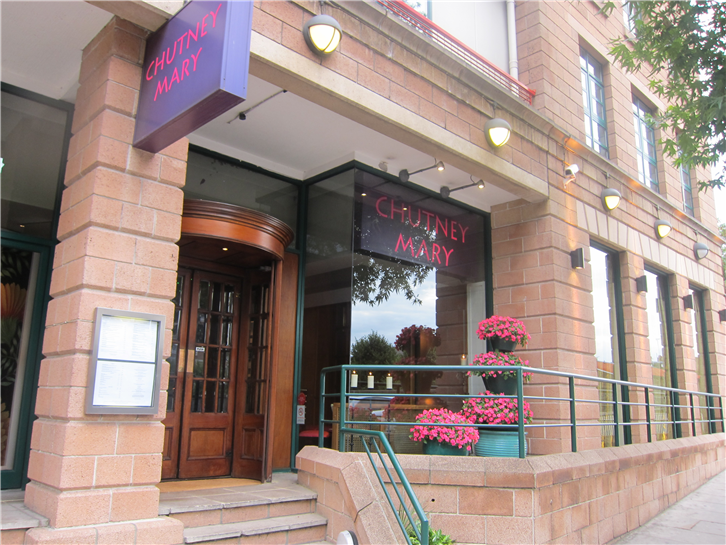 The York and Albany produced an enjoyable meal this week, my first visit to this boutique hotel in Camden. The food was generally well made and the price not excessive, though service was a little erratic. However this is an example of a Gordon Ramsay venture that is operating quite smoothly.
I was impressed with a meal at Chutney Mary (pictured), which has now been around for no less than twenty years. Tandoori dishes were carefully made, while a gulam jamun dessert was remarkably good. There is certainly cheaper Indian food to be found in London, but it is hard to really criticise the quality of the cooking here.
La Trompette was on good form this week, with an enjoyable mackerel with salad and a little bacon, followed by a classical Chateaubriand and (an innovation here) triple cooked chips. Even on this Monday night in August the dining room was fully booked.
Happy fifth birthday to Sam's Brasserie, which opened on 8th August 2005. It has become part of the Chiswick dining scene, despite its eccentric location (tucked away down an alley, not far from the post office).
Another local place to me, the Duke of Sussex, delivered a particularly good meal. I was most impressed with my wife's starter, an intensely flavoured crab soup, rustic and with robust seasoning. My Spnish omelette was also nicely made, as was a seafood paella. This was meal suggesting that the kitchen is on a bit of a roll here, and I will return in due course to see if this positive trend continues.
I finished the week at almost the end of the train lines, with a trip to the Sportsman on the Kent coast. I have written about this restaurant at length so will not repeat myself, but suffice it to say that the tasting menu was lovely. A native lobster with a stuffed courgette flower was particularly impressive, while the lovely taste of the summer vegetable salad (with vegetables grown in the garden of the pub) just serve to remind diners just how mediocre are the vegetables used in many top London restaurants. This is simple cooking with fine ingredients, and what more can one hope for from a restaurant?
In other news, the dismal Urban Turban, Vineet Bhatia's Notting Hill venture, duly folded. He blamed the location and the economy for the closure, somehow omitting to mention the quality of the food. I was much sorrier to see Konstam at the King Albert close on August 2nd – in this case I think the location can justifiably be blamed. On the subject of restaurant closures, they do things differently in Japan. Three Michelin star restaurant Osier is about to close for three years because problems were found with the building in which they happen to be located; seemingly, they will not be moving elsewhere in the interim, but are just shutting down and waiting for the building to reopen.
The blog will be a day earlier than usual next week.