Roux at the Landau reviewed
Saturday, February 05th , 2011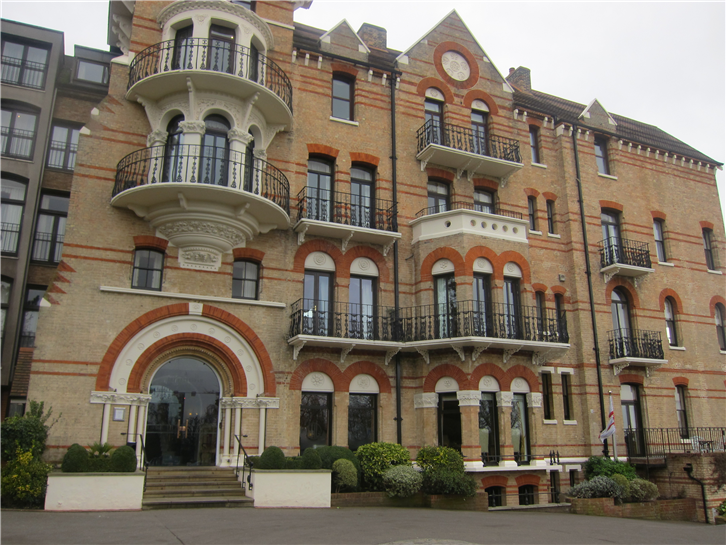 The Landau dining room is one of the prettiest in London, with its unusual oval shape, copious space and natural light and wood panelling. The kitchen is now in the hands of the Roux family, with one of their protégés, a young chef Chris King (who trained at Le Gavroche) in charge at the tender age of 26. This is quite a responsibility, but the meal that I had this week suggested that he was well up to the job. As perhaps was to be expected in a relatively new kitchen team, there were some inconsistencies during the meal, but slips were minor and the best dishes were very good indeed.

Not many restaurants last for over a decade, so the fact that Café Spice Namaste continues to prosper fifteen years on from its launch is impressive. I was a big fan of Cryus Todiwala's cooking when he had the tiny premises of Namaste prior to Café Spice Namaste, and have never felt that the cooking ever reached those heights at the much larger and smarter current premises. However my special offer lunch this week was good value, and featured dishes that were a cut above the high street.

Of course Café Spice is a mere stripling compared to the Golden Hind, a fish and chip shop in Marylebone running since 1914. No fancy décor here, with tiny tables packed into a brightly lit dining room and a rapid turnover. I though the fish in particular (haddock in my case) and chips were very good, but other things tried at the meal fell well short of that standard. I still yearn for the days of the superb fish and chips at Bibendum when Simon Hopkinson was cooking, but perhaps this is just showing my age. The Golden Hind seems serviceable enough if you stick to what they do best.

The Modern Pantry was not having a particularly good day on the night that we visited, with one very good main course and a pleasant dessert, but some other dishes that were not to the same standard; this was a more erratic meal than my previous experience here, possibly not helped by the absence of head chef Anna Hansen.

By contrast Alex Bentley was firmly in the kitchen during my lunch at The Petersham (pictured), and produced an excellent meal. A main course of venison showed precise technique and accurate seasoning, while an inventive starter also worked well. This is a restaurant that seems to me to deserve more critical attention than it currently gets.

For those who do not live in the UK, or else have been in a sensory deprivation tank for the last week, Heston Blumenthal's restaurant London restaurant – the inventively titled "Dinner" recently opened at the Mandarin Oriental hotel in the premises that used to be Foliage. This has been subject to the most skilful PR launch I have witnessed, with essentially every table available until the end of June at a 140 seat restaurant already booked for lunch and dinner (there will in fact be some tables coming free in due course as they are not currently running at capacity yet). I was made aware by a friend some time ago that there was an active secondary market for El Bulli reservations, and – guess what – this same effect has already started for the case of Dinner. £10.50 seemed to be the going rate for a reservation based on eBay's pricing today, so the scarcity value has a long way to go to compare with El Bulli reservations, which were changing hands for over a thousand euros last year (you may not approve of this, but it is a normal market reaction to a scarce resource, as can be seen at most concerts and sporting events: "psst, fancy some meat fruit and salmaugundi mate?").

This is a tribute to Heston's personal brand and to a highly professional launch from Lotus PR, with not just food critics but even bastions of fine dining reportage such as The Sun newspaper reporting on it. I decided to lay low in this case, and will write a review when the dust has settled a little, rather than diving in on the opening day – there is no shortage of reviews out there already if you are curious. The emphasis of cooking based on historical British recipes is certainly an intriguing one, and it is nice to see a notable chef opening something other than a bistro. Whatever the food is like, it is hard not to admire the sheer bravado of the launch.