I try Helene Darroze at the Connaught
Saturday, July 26th , 2008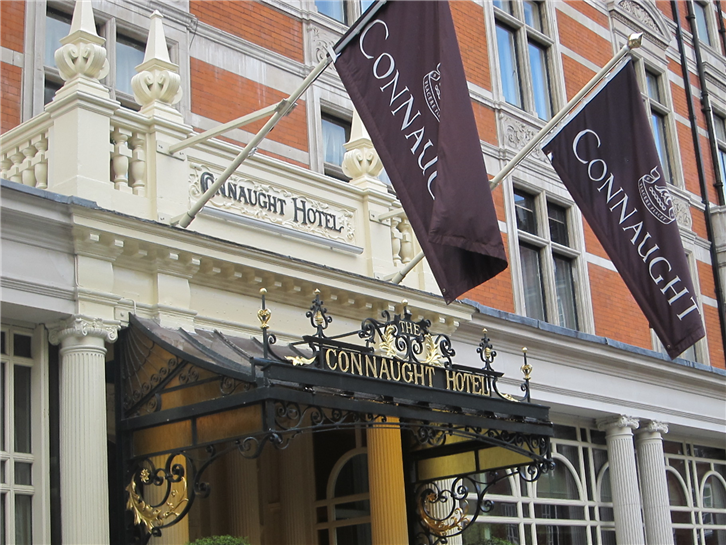 Helene Darroze
is the latest serious French chef to try her hand in London. She runs a 2 star restaurant in Paris, and trained for years under Alain Ducasse. I won't repeat the review in this blog, but essentially I thought the meal was superb. There was a real attention to the quality of the produce used, the menu was appealing and the technique excellent. It is not a bargain but is not excessive for the level of cooking on display. It was so nice to see a menu pretty much free of the latest chef faddishness: not a single piece of tree bark or albatross sputum foam appeared on the menu, so no doubt she will be accused of being old fashioned. Good for her.
The
Red Fort
has a long history in London and various chefs over the years, of varying effectiveness. I had a very good, if costly, meal there are couple of years ago but my visit this week was less successful. The menu looks interesting but there was a tendency to overcook things, and the prawns in particular tasted cheap and poor quality. There is no excuse for this at £60 a head for a curry, and there are clearly better alternatives, such as Haandi, not too far away.
The "Scores on the Doors"
scheme
for London restaurants is now up and running, giving health inspector's assessments of restaurant hygiene across the capital on a five star system as follows.
*****


Excellent: Very high standards of food safety management. Fully compliant with food safety legislation.
****
Very good: Good food safety management. High standard of compliance with food safety legislation.
***
Good: Good level of legal compliance. Some more effort might be required.
**
Broadly compliant: Broadly compliant with food safety legislation. More effort required to meet all legal requirements.
*
Poor: Poor level of compliance with food safety legislation – much more effort required.
No stars
Very poor: A general failure to comply with legal requirements. Little or no appreciation of food safety. Major effort required.
In some cases there is no entry, as the inspection cycle is 6 months to three years depending on risk, and all the sites listed have been inspected since January 2006.
So, how do the Michelin starred places in London stack up? A full list, as best I can discover, is below (correct as of today; the scores may change in the future). Well done to Gordon Ramsay, Le Gavroche, The River Café and Gary Rhodes for attaining the highest possible rating. You do not have to be a fancy restaurant to get 5 stars: Madhu's in Southall, for example, gets five stars, outscoring as can be seen the vast majority of Michelin starred establishments.
I was surprised to see the Lindsay House languishing at one star, which is clearly not a satisfactory score at all. Even worse is Rasoi Vineet Bhatia, with no stars. This means: "
A general failure to comply with legal requirements. Little or no appreciation of food safety
". Drilling down further into the three scores that contribute to the "no stars" rating, the score for this establishment means: "
Varying record of compliance. Poor appreciation of hazards and control measures. No food safety

management system
." and "Some major non-compliance with statutory obligations – more effort required to prevent fall in standards".
I can't say I much fancy eating in somewhere with this sort of rating.
I have to say I am very much favour of this scheme, which for the first time gives customers an idea of the level of hygiene in the places they are eating out, and gives them a chance to check first and feel confident. The food industry has been predictably lobbying against the scheme, but if it gives some places a kick up the backside then surely this must be good for all of us who eat out?
The complete list of London Michelin starred places follows, with their scores on the doors where available. If you want to check out your local places, use
this
web site.
5 Stars
Gordon Ramsay SW3
Le Gavroche
Gary Rhodes W1
River Cafe
4 stars
Amaya
Foliage
Galvin at Windows
Glasshouse
Gordon Ramsay at Claridges
Hakassan
Maze
Nobu
Nobu Berkeley
Pied a Terre
Roussillon
Sketch
Tom Aikens
Yauatcha
Zafferano
3 stars
Arbutus
Assaggi
Benares
Chez Bruce
Greenhouse
Hibiscus
La Trompette
Locanda Locatelli
One Lombard Street
Orrery
The Square
Umu
2 stars
Club Gascon
l'Escargot
Halkin (Nahm)
Petrus
1 star
Lindsay House
No stars
Rasoi Vineet Bhatia
No entry (that I could find):
Atelier Robuchon
Aubergine
The Capital
Rhodes 24
The Ledbury
Quilon
Tamarind
Wild Honey