From Park Lane to Bayswater
Saturday, February 12th , 2011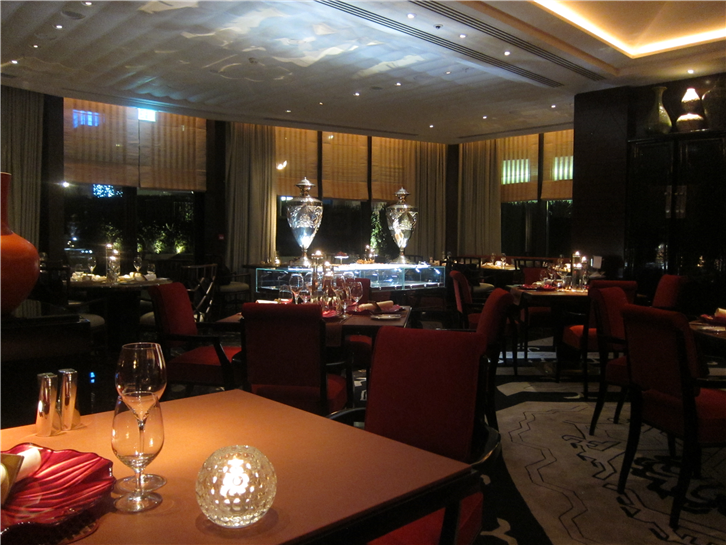 Amaranto is the Italian restaurant at the recently re-opened Four Seasons hotel in Park Lane. The room is very expensively decorated (see picture), with an attractive bar next door, but all that costly decor has to be paid for, and they seem to be trying to recoup their investment via the wine list. There are some pretty costly wine lists in London, but I cannot recall one with higher mark-ups than this, while £6.50 for a double espresso (admittedly with good petit fours) is also an awful lot of money. The food itself was a curious mix, with a genuinely excellent pastry chef yet merely pleasant savour dishes.
Texture's sister 28:50 has an attractive wine list, and cooks simpler bistro fare than the more ambitious dishes on offer at Texture. The best dish was a pheasant main course, and the modest wine mark-ups at the higher end of the list here was a particular contrast to Amaranto's list.
Charlotte's Bistro has a new chef since my previous visit, but seems very similar in style and standard. It has an airy room on a sunny day, as this lunch time visit was, and three courses for £15 is certainly fair value for what is competent cooking.
The Royal China in Queensway is highly consistent; this week I tried some eel for a change, and although it was properly cooked and seasoned I think I simply prefer grilled eel to steamed, so wouldn't rush to order this dish again. However steamed gai lan was as excellent as ever, as were prawns with cashew nuts.
Clarkes in Kensington now offers an a la carte menu after decades of a no-choice offering, ironically doing this just as the latter (which is very common in Japan: "omakase", where the chef rather than the diner chooses the menu) is becoming fashionable. The menu is very appealing, with simple modern British cooking. The meal this week was not quite as good as my previous visit, but this is still a very enjoyable place to eat.
Stevie Williams of the Harwood Arms is moving on (at the end of February), having built up a terrific pub restaurant whose food is so good that it obtained a Michelin star. He will be succeeded by his current sous chef Barry Fitzgerald. Steve is to spend a year travelling, and hopefully we will see him back behind the stoves at some point.