A Japanese hidden gem in Ealing
Saturday, March 26th , 2011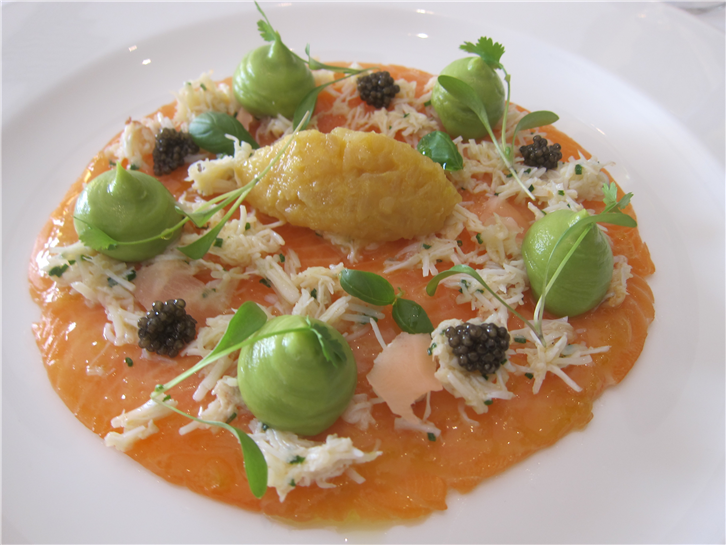 Kiraku is just a few doors along from the very good value Atariya, which I reviewed last week. It is even better, offering unusually good tempura and a stunning piece of grilled mackerel that many Michelin star places would struggle to improve upon. The prices are very fair too. This is a restaurant that seems almost unknown outside the Japanese community, and I will most definitely be back here.

Haandi is one of my favourite Indian restaurants: despite its ordinary décor and at times overly relaxed service, it is great value due to its consistent and fairly priced Punjabi cooking. This week fish tikka and murgh burra tikka were both tender and well-spiced, while the vegetable curries here are superb: aloo gobi is as good as you will find anywhere. Parathas are also very good, and even the popadoms are superior to almost all others I have tried in London.

Roux at the Landau delivered an excellent lunch this week, the cooking slightly more consistent than at my previous meal here: for me the food here is definitely on the borders of Michelin star level. I think this is one of the prettiest dining rooms in London, and it also has some of the most professional service. I feel this place is getting less media attention than it deserves.

I had a quick lunch at Bar Boulud, able to compare the Yankee burger with the piggy burger this time (piggy wins for me). The charcuterie board here is unusually good for London. The place was packed even on a weekday lunch, so the formula is clearly highly successful.

Last time I went to Galvin at Windows I had an enjoyable, capable meal that seemed to me quite expensive for what appeared. My opinion did not change based on my visit this week. Ingredients were so-so, the cooking actually quite capable (one nice dish of salmon and crab is pictured), and the service very good. Yet £155 a head with a good but not wildly high-end wine (£90 on the list for a £30 retail price bottle) seems an awful lot of money for a meal at this level, even allowing for the fine view over London.

I am working on (well, specifying, someone who actually knows what he is doing is coding) some interesting new functionality for my wine app, and this should be ready in a couple of weeks, subject to final testing; more on this to follow. On the subject of wine in restaurants, I recently discovered an interesting website called Winechap, where somebody (@winechapUK on Twitter) has analysed the wine lists of a number of high end London (and New York) restaurants and come up with a series of recommendations for each: what an excellent idea.